Site best viewed on a computer screen - not optimized for cell phones
Latest 50 articles published or updated here: BLOG (Web-Log) Page

Trump Walking the Political Tightrope, with No Net, and Winning.
In damned if he does, damned if he doesn't evil swamp politics, Trump keeps his balance on the tightrope above it all.
Vic Biorseth, Sunday, June 28, 2020
https://www.CatholicAmericanThinker.com/
Trump is walking a very dangerous political tightrope; dangerous for him and dangerous for the American Way. 
If he falls off to the Left, the Marxocrat Party and other Communists will get him. If he falls off to the Right, the Never-Trumpers, Neocons and "Conservative" social-issue Liberals will get him. Only if he walks the tightrope to the end does the American Idea survive and prosper again.
The Swamp Trump has set himself to drain is Cultural Marxism, all grown up. It is 97 years old this year. It is reputed to have been born in a 1923 "Marxist Study Week" in Frankfurt Germany, in which the Hungarian Georg Lukacs changed the direction of many if not most Marxist-Leninist efforts to incite violent revolutions.
Previous to that the Communist revolutionary effort was aimed at almost purely economic issues, demonizing Capitalism and all the institutions of business, banking and property, demonizing the owners as "exploiters" and inciting the "workers" to rise up in anger against them, taking over these institutions by force. 
Post "Marxist Study Week" Lukacs founded the Institute for Social Research, the think-tank which would become known as the Frankfurt School. The school mixed the ideas of Marx with the ideas of Freud, giving birth to Cultural Marxism. 
The new trick was to seek to infiltrate and destroy, from the inside, all of the cultural institutions of the free world, like innocuous, unnoticed termites, rather than big bold revolutionaries. The "termites" would eat away at Christianity and the Catholic Church, the legal system, the political system, Marriage and the family, morality and whatever is socially "normal". The ultimate goal is the destruction of Christianity and America, but in thousands of little ways rather than in one big way. Thus, Cultural Marxists are, in their millions, individual Antichrists. Cultural Marxism is, essentially, the Political Correctness movement.
Lukacs, as far back as 1918, as Minister of Culture in Communist Hungary, had discovered that if the family unit and Christian morality could be broken down, the whole distinct culture would fall apart on its own. He there instituted a program of Cultural Terrorism in which graphic sexual activity was presented to little children, along with criticism and derision of God, religion and religious morality. Children were taught the "goodness" of loose sexual activity, and, educationally, turned into immoral little monsters. The term Demons may be appropriate. Each one, one of Cultural Marxism's evil social termites. 
When the National Socialist Worker's Party (the Nazis) came to power in Germany, seeing the writing on the wall, the whole Frankfurt School, predominantly comprised of Communist Jews, moved to New York City and continued its evil work from there, while promoting the lie that all opposition to Communism was linked solely to Nazi-Fascism. You could be a Communist, or a Nazi-Fascist, with no room for anything in between, including the American Way. In the Cultural Marxist view, all that exists politically is Communism and its opposition, which is Nazi-Fascism.
And if America is anti-Communist, then America must be Nazi-Fascist.
In all Marxist thinking, the American Way isn't even a viable political entity. In Communism and in every other variant and interpretation of Marxism, including even Fascism and Nazism, Capitalism is the enemy. That means that America is the target for destruction for every form and variation of Marxism. The reason is that America, as Declared and as Constituted, declares as its very national foundation the Big Four Civil Rights of Equality, Life, Liberty and Property. These Big Four Rights, which are the basis of all other American Constitutional Rights, are the absolute requirements for the free market of Capitalism to most properly, beneficially and profitably operate. Take them away, and the free market is no longer free, and Capitalism fails.
Worst of all, in the Marxist view, these Big Four Rights are declared by America to be authored by God, and insulated from hindrance by man. That is unacceptable to atheistic Marxism, in which all rights originate with the State, and in which the State giveth, and the State taketh away.
Today, Cultural Marxism owns and operates the American Marxocrat Party, American academia, all public education, the universities, science, the mainstream news media, Hollywood and the entertainment industry, publishing houses, all the social media moguls, Silicon Valley and the biggest internet and search engine providers. All speech, all education, all news, all social media and even all search engine results are censored, altered and filtered by Cultural Marxism for pre-approved political correctness. 

Right here in America, Cultural Marxism, and not our Constitution, determines what is and is not politically correct and therefore allowed to stand, be spoken, written, broadcast or published. 
And that is solidly backed up by our Culturally Marxist Marxocrat Party. 
And by our Culturally Marxist "fiscal conservative/social liberal" Republicrat Party members. 
And also by our predominantly Culturally Marxist Supreme Court. 
Ideological/Political Alignment of American Supreme Court Justices
Thomas

Alito

Ginsburg

Breyer

Sotomayor

Kagan

Swing-Voter
Cultural Marxism's goals are clear. They are the Ten Pillars of Communism, and they are listed in the Goals of Communist Subversion. And many are the unknowing, ignorant "termites" and Useful Idiots of Cultural Marxism who blindly further those evil goals in some little way, while seeing themselves as good people, and even patriots, and even Christians. 
The Marxocrat Party slyly displaced racial desegregation with forced racial integration, and then brought sinful activity into both the "Politically Correct" and the legally forced integration picture, and merged them, so that politically correct society, and law, would force the American culture to accept and embrace even sodomy as "good".
Side Note
There is a big difference between racial desegregation and racial integration. Desegregation lets nature take its course; Integration imposes itself on people. America was already largely desegregated, at least legally, until the Culturally Marxist and racist Democrat Woodrow Wilson administration re-segregated the military, civil service and more. And we remained racially segregated until the Republican Eisenhower administration once again desegregated the military, the government and the schools. It was Democrat-becoming-Marxocrat Party resistance to that legal desegregation that lit the racial-social fires of the 60s and 70s. And while they may have murdered MLK, MLK won in the end. 
Perhaps the most obvious and classic example of Cultural Marxist trickery may be our anti-discrimination laws. Originally (supposedly) aimed at elimination racial discrimination, what they did, from the beginning, was to eliminate the libertarian principle of freedom of association, replacing it with state-imposed association. Legally forcing people, against their will, into close association with people they prefer to not associate with. 
And once that was accomplished, it spread from racial forced association to sexual and even homosexual forced association. No more male bastions of higher education, such as West Point and Annapolis. No more homo-free work places, or schools, or clubs, or even Churches. 
It either began or was fed by the psychological trick of "popular political correcting" of mainstream cultural thought, promoting the false and culturally destructive ideas that homosexuality was,
"medically" not a psychiatric disorder,
"scientifically" normal and natural,
"religiously" not sinful, 
couldn't be helped because homos were born to be homo,
therefore homosexuality was to be perfectly socially acceptable within the culture, and perhaps even encouraged.
And there we have five of Cultural Marxism's most obvious flagrant lies. Lies that made homosexuality actually popular, forming a platform for some to become stars, and for "self-outed" homos to be seen as heroic. And for many otherwise good people to fall all over themselves reassuring the now overly politically correct world that they are not homophobic and that some of their best friends are homos, and its perfectly all right with them if their own children go homo. 
When sodomy is culturally acceptable the culture has become Sodom. 
We can see today that state-forced association is being elevated into state-forced domination of homosexuals over heterosexuals, as pushed by Culturally Marxist groups like Black Lives Matter. Quoting from the Domesticated Americans page, 
BLM is mostly peaceful protesters? Excuse me? The hell they are. None of them are or ever were peaceful protesters. The whole movement is a Communist front, and the whole purpose is a lie. It was founded by three black Commie-Homo teenybopper dingbat broads, to push Communist, black, racist, Feminist and LGBTQ cultural domination, and crush the American Idea. 
They don't give a damn about black lives and never did. What they want is the same thing the Marxocrat Party wants, and that is anarchy, chaos, revolution and the end of America as Constituted. 
And if America doesn't toe that line and accept homo domination of culture, they fully intend to burn America down. BLM is a lot more interested in Communizing and sodomizing American culture than in protecting any black lives from anyone; if you don't believe that, look at the first video in the Indiscriminate page. 
So there is President Trump, walking the political tightrope above this filthy, stinking, two-Party Cultural Marxist morass.
The Marxocrat Party and their "permanent  government" is still running their treasonous silent coup against him and his government and trying to take him and the elected American government out, crush the American Idea and establish an unconstitutional and tyrannical government of some kind.  
All of his highest ranking generals have very publicly made it known that they very much politically oppose their own Commander In Chief, and they all made sure the public knew it before they ever mentioned it to him, if indeed they ever did. Making themselves politicians rather than generals.
The popularly believed and supposed to be "scientific experts" who shut down the whole nation for the Marxocrat Party and all of their counterparts in Marxocrat jurisdictions all across America are just daring him to open up too soon, while convincing the public that if we ever open up again, or ever get back to normal as we were before the shut down, millions upon millions might die, but if even one more person dies, it will be Trump's fault. 
"Mitigation" will be with us forever, if they have their way. And every time any new cold or flu strain hits, they will shut us all down again, if they can. They got away with it once, and they will do it again. And again. And again. 
Just as Islam has carved out its own sovereign no-go-zones in places like Dearborn and Hamtramck Michigan, BLM has carved out its own sovereign no-go-zone in Seattle Washington. A no-go-zone is an area where American sovereignty has been relinquished by the local authorities, and the police are no longer allowed to maintain a presence or even enter the zone.

A no-go-zone is permanently lost sovereign territory.
If President Trump sends in the troops to take any lost territory back, the local authorities will oppose the move and charge him with tyranny and using the military against American citizens. Every time in history an American President has put down an insurrection the local authorities stood with him; this time, they do not. They like this situation; they foster it and feed it. 
At the same time, there is no guarantee that Trump's generals will obey his orders, since they have publicly identified themselves as his political opponents. 
If he fires them, who does he replace them with? How does he know which generals are trustworthy, and which are just more treacherous swamp creatures like the others?

(Lincoln went through multiple years of bloody war and fired generals by the gross until he ultimately appointed Grant and Sherman who finally prosecuted total war and thus won the Civil War. It's no different today. Look at what happened with the appointments of Gorsuch and Kavanaugh on the Court.)
And yet, Trump's boots aren't even muddy. He remains above it all, and he continues to win, to the repeatedly shocked disbelief of all of his considerable and seemingly overwhelming opposition. He has some inner sense (Providential guidance?) that keeps him one step ahead, if not two or three. We believe he is more aware of his situation and of ours than any of us are. 
The reason they hate him, we must remember, is that they hate us, the Bourgeoisie, and he is one of us. They are men of "process"; he is a man of action.  He is that rare breed of the Bourgeois Billionaire who is not one of them. They loath the American idea and the middle class; he loves the American idea and the middle class. He is one of us, and he intends to restore the American idea and to restore us, and that is why they hate him with such a passion. He has already undone much of their anti-American pro-Marxian accomplishments and he intends to undo more. 
Making America great again, again, means defeating them. Again.
And he is doing it. 
Cut him some slack. Give him time for his measured responses. Trust him, and pray for him, because he is the only one in Washington who is actually doing anything for us and for our original American Idea. Always, when it looks like he really screwed up and is falling, he has a way of always landing on his feet, and surprising everyone, and once again, he was right, and everyone else was wrong. It's stunning, really.
If anyone is going to save America, the American Idea and the American Middle Class, it is President Trump. 
Who else could or would do it? We have no other choice. Offer a Rosary for our American champion, President Trump, today and every day. 
---
The only thing Truth has going for Him in this world is us. 
The restoration of Truth = Reality in the hearts and minds of men is now totally dependent upon you and me; if we don't do it, it won't get done.
Sign the Letter to your Bishop, and make our Church Catholic again. 
Join Cardinal Burke's Storm Heaven Rosary Campaign.
Get behind a President Trump and a Vice President Donald Trump Jr, and make America Constitutional again. 
Pray for a strategic collaboration between Abp. Vigano and Trump.
=====
EENS:  Extra Ecclesiam Nulla Salus
(Outside the Church there is no salvation)


With fear and trembling, work out your salvation--Phil 2:12
Seek the Truth; Find the Way; Live the Life.
Please God, and Live Forever.
=====
Sarcastic Acronym Hover-Link Footnotes: For the convenience of those readers using devices that lack a mouse, these footnotes are provided for all webpages, in case any webpage contains any hover-links. (If you don't have a mouse, you can't "hover" it over a link without clicking just to see the simple acronym interpretation. Click any footnote link to see the acronym and a detailed explanation; "Hover" the mouse over it just to see the simple interpretation.)
SLIMC1
Secularist Liberal Intellectual Media Complex
GESGOEAEOT2
Gradually, Ever So Gradually, Over Eons And Eons Of Time
PEWAG3
Punctuated Equilibrium's Wild-Assed Guess
TTRSTF4
Them There Real Scientifical-Type Fellers
TTRSPTF5
Them There Real Smart Perfesser-Type Fellers
TTRSJTF6
Them There Real Smart Journalistical-Type Fellers
SNRTACBT7
Surely No Right Thinking Adult Could Believe Today
STNSEACPB8
Surely Today No Serious Educated Adult Could Possibly Believe
WDN9
We Don't Know
BMDFP10
Baboons, Mongrel Dogs, Filthy Pigs and ...
HBAACOTE11
Human Beings Are A Cancer On The Earth
ACLU12
Anti-Christian Litigation Union
FLORMPORIF13
Flagrant Liar, Or, Mindless Parrot, Or, Innocent Fool
MEJTML14
Marxist Ends-Justify-The-Means Liar
IEJTML15
Islamic Ends-Ends-Justify-The-Means Liar
MPAV16
Marxist Principles And Values
WBESSWG17
Wise, Benign, Elite, Super-Scientific World Governance
TRMITM18
The Reason Man's In This Mess
IYI19
Intellectual Yet Idiotic
TTRSCBTF20
Them There Real Smart Catholic Bishop Type Fellers
IACMPVND21
Illegal-Alien-Criminal Marxocrat-Party-Voting Nation-Destroyers
PEJTML22
Palestinian Ends-Justify-The-Means Liar
PSYOP23
"Psychological Operation" Mind Trick
CDC24
Covid Developmentally Challenged
LGBTQ+25
Every Letter Represents A Serious Psychotic sexual Identity Disorder
[All Web Pages listed in Site Map by date-of-publication;
oldest at the top, newest at the bottom of the list.]

Culture=Religion+Politics;  Who Are We?  Vic Biorseth
The Brilliantly Conceived Organization of the USA;  Vic Biorseth
Return to the BLOG page
Return to the HOME PAGE
Subscribe to our Free E-Zine News Letter
Comment
Respond to this WebPage immediately below the last comment.
Or,
---
Language and Tone Statement

Please note the language and tone of this monitored Website. This is not the place to just stack up vulgar one-liners and crude rejoinders. While you may support, oppose or introduce any position or argument, submissions must meet our high Roman Catholic and Constitutional American standards of Truth, logical rigor and civil discourse. We will not participate in merely trading insults, nor will we tolerate participants merely trading insults. Participants should not be thin-skinned or over sensitive to criticism, but should be prepared to defend their arguments when challenged. If you don't really have a coherent argument or counter-argument of your own, sit down and don't embarrass yourself. Nonsensical, obscene, blindly &doggedly anti-Catholic, anti-American, immoral or merely insulting submissions will not be published here. If you have something serious to contribute to the conversation, be prepared to back it up, keep it clean, keep it civil, and it will be published. We humbly apologize to all religious conservative thinkers for the need to even say these things, but the Hard Left is what it always was, the New Leftist Liberals are what they are, and the Internet is what it is.
"Clickbait" advertising links are not acceptable for posting here. 
If you fear intolerant Leftist repercussions, do not use your real name and do not include email or any identifying information.  Elitist Culturally Marxist Pure Authoritarians cannot and will not tolerate your freedom of speech or any opposition to their rigid authoritarian, anti-equality, anti-life, anti-liberty, anti-property, hedonistic, anti-Constitution, pro-Marxist, pro-Islam, anti-Catholic, anti-Christian, anti-Semitic, anti-male, sexist, pro-homosexual, anti-heterosexual, anti-white, racist, anti-Western, anti-American, Globalist, anti-Nation, blatantly immoral, totally intolerant and bigoted point of view. 
Copyrighted Material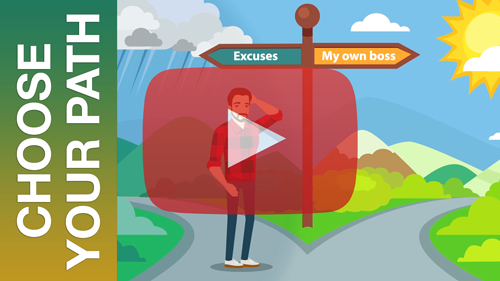 Solopreneur Opportunity Links, for a
Solo Build It WebSite