Site best viewed on a computer screen - not optimized for cell phones
Latest 50 articles published or updated here: BLOG (Web-Log) Page

Babbling Christianity:  The Loss of Unity in the Christian Message.
Is some New Testament "Tower of Babble" moment behind babbling Christianity's ever increasing disunity?
Vic Biorseth, Wednesday, February 11, 2015
https://www.catholicamericanthinker.com/
Thousands and thousands of denominations now, and new ones born every day.  Why?  Multitudes of Bishops within the very Church Christ founded teaching erroneous Christian doctrine, or failing to properly teach original Christian doctrine.  Why? 
Protestantism claims that the Church fell into corruption, which is to say that Christ lied, and that the gates of hell did indeed prevail against it, and He did not send the Holy Ghost to guide it into all Truth, Who would speak to it only on behalf of the Son, Who would remind it of all that He had said to it, and that He would be with it until the end of time. 
So the claim is that the Church was corrupted, and, most say, Martin Luther "Reformed" it.  Well, he was the first "Reformer" who renounced his priesthood, violated his oaths of poverty, chastity and obedience, split off from the Church Christ founded to form the first of many Lutheran "denominations".  But, then came Calvin, and Zwingly, etc., while Luther's revolt was still going on.  And more "denominations", each of which would spawn more. 
That was a Reformation? 

But what was the claimed corruption?  What original Christian doctrine was deleted or changed, or what entirely new doctrine was added?  Can anyone show me? 
We have shown how the original "Reformation" was corrupt from the beginning, displacing the original Gospel of Christ with new gospels of man.  Entirely new and invented doctrines, of Sola Scriptura, Sola Fide, the Universal Priesthood, etc., not to be found in Scripture, large T Tradition, small t tradition or the history of the Church, were authored by Luther, the so-called Reformer.  Scripture itself anathematizes this sort of thing as heresy. 

[6] I am astonished that you are so quickly deserting him who called you in the grace of Christ and turning to a different gospel --
[7] not that there is another gospel, but there are some who trouble you and want to pervert the gospel of Christ.
[8] But even if we, or an angel from heaven, should preach to you a gospel contrary to that which we preached to you, let him be accursed.
[9] As we have said before, so now I say again, If any one is preaching to you a gospel contrary to that which you received, let him be accursed.
[11] For I would have you know, brethren, that the gospel which was preached by me is not man's gospel.
--Gal. 1:6-11

None of Luther's invented dogmas can be found in Scripture.  The worst of them is the sole authority of Scripture heresy, which is not to be found in Scripture.  So by who's authority do Protestants believe it?  Luther's?  The gospel of a mere man? 

[20] First of all you must understand this, that no prophecy of scripture is a matter of one's own interpretation,
--2 Pet. 1:20

When Jesus sent His Church out to baptize and teach in His name, He told them that whoever received them received Him, and whoever rejected them rejected Him, and rejected He Who sent Him.  Those who believed would be saved; those who did not, would not be saved.  That's a pretty solid confirmation of the authority He gave to His Church. And He issued fair warning, saying that they who did not gather with Him would scatter. 
Most Protestants will claim that the Church was corrupted when Emperor Constantine "took over" the Church; but he never took it over.  All he did was end Roman persecution of it, and allow it to come out of the shadows and practice openly.  His calling for the first great Council, and the Church heeding his call, was little different from a later Pope calling for a Crusade, and Nobles and Knights heeding his call.  The Church was not corrupted by Constantine; all the original teachings of Christ and His Apostles remained unchanged.  History proves it.  So, contrary to predominant Protestant belief, the gates of hell did not prevail against the Church from Constantine until Luther's Reformation. 

Now, the Mormons believe that the Church was corrupted immediately, or after the death of the last Apostle, something like 1,900 years ago, and the gates of hell have been prevailing against it ever since.  Or, at least until Joseph Smith authored his Book of Mormon, in direct violation of St. Paul's letter to the Galatians, as quoted above.  The Book of Mormon is an entirely new gospel of Jesus Christ, authored by a mere man, preaching other than that which was preached by Christ and His Apostles. 
The results of Luther's "Reformation" are plain to see.  40,000 denominations and counting.  Every man for himself interpretation; do it yourself salvation; religions of convenience.  Find the church most convenient to your lifestyle, or found your own, and go into business with it.  There's big bucks in mega-churches, you know.  The church of man.  The church of compromise.  The church of convenience.  The church of entertainment.  The church of the world. 
Roman Catholicism is certainly not convenient; no bones about it.  But we do not practice Catholicism for our purposes, but for His.  Not our will be done, but His.  He said if we love Him, we will keep His commandments.  All of them. 
Yet today we see the same thing happening within the Church Christ founded.  And it seems to me that, like Protestantism, it stems from violation of the First Commandment: 

[4] "Hear, O Israel: The LORD our God is one LORD;
[5] and you shall love the LORD your God with all your heart, and with all your soul, and with all your might.
--Deut. 6:4-5

Imperfect, fallen beings that we are, we cannot do that perfectly.  Living practical lives in this world, we have to give some part of our heart, our soul and our might to family, home and hearth, our neighbor, our country, etc.  Nevertheless, putting anything at all ahead of the Lord is nothing less than a form of idolatry, and a mortal sin. 

[16] If any one sees his brother committing what is not a mortal sin, he will ask, and God will give him life for those whose sin is not mortal. There is sin which is mortal; I do not say that one is to pray for that.
[17] All wrongdoing is sin, but there is sin which is not mortal.
--1 John 5:16-17

This is a sin unto the death of the soul.  Now, there have been sinners inside the Church and among the clerics from day one.  Judas Iscariot was the first glaring example.  But today, deviance from what Christ and His Apostles originally taught is going on steroids.  I submit that all of the nonsense we see inside the Church today, most particularly pertaining to teaching on sins pertaining to sexual impurity, derive from resistance to Church teaching on artificial contraception. 
This argument is the root of all identifiable current division in the Church. 

And what is artificial contraception, other than a form of idolatry?  God is the sole author of life.  In using, or approving, or not condemning artificial contraception, man assumes unto himself decisions pertaining to the origination of human life.  It is putting man ahead of God, in direct violation of the First and greatest Commandment of God. 
In the Garden, the serpent lied to the woman, saying "You will not die.  For God knows that when you eat of the it your eyes will be opened, and you will be like God, knowing good and evil."  [Gen. 3:4-5]  The first Idolitry: to be like God.  To become God.  To decide for yourself what is good, and what is evil.  To not only deny authority, but to assume authority unto yourself. 
To make of yourself not only the author, but the determiner, of the beginning of life. 

Protestantism first cracked the doctrinal barrier prohibiting contraception at the 1930 Anglican Lembeth Council, and the floodgates were soon opened and all of Protestantism fell through.  Before then, no believing Christian or Jew would have considered it to be anything other than sinful and unnatural.  Looking at it through the rear view mirror of time, it is easy to surmise that some number of Catholic clerics of various rank quietly wished the Church had gone along with secular culture and the Protestants.  It was the popular thing to do.  Hindsight is usually more accurate than foresight. 

By the time of Paul VI's 1968 Humanae Vitae, plenty of Bishops were fully prepared to resist it, some of them openly.  They had flocks.  Flocks listen to their shepherds.  Other flocks listened to what their Bishops did not say about it.  A contraception mentality entered lay Catholic culture, and few did anything at all to stop it.  Too little.  Secular culture - The World - was driving the point home, with a sledge hammer, against weak and timid resistance.  What little strong Catholic opposition existed was eventually overwhelmed by the Catholic contraceptive tide. 
Today, we are no different than the Protestants in all areas of sexual impurity.  All of which came to the forefront in our culture as a direct result of the contraceptive mentality, which is the very idea of sex without consequence, and sexual gratification for the sole purpose of sexual gratification.  The contraceptive mentality is the prophesied father of every twisted perversion with its own well funded political organization, fully supported by our now thoroughly corrupted court system and with the committed and determined legal and political support of the Marxocrat Party.  And Scientism. 
The contraception perversion led the way to abortion and homosexual marriage.  Mere stepping stones on the path were single parent families, broken families, roaring divorce rates, no fault divorce, unwanted children, abused children, abused women, homosexual and other perversions out the wazoo, and all brought about by ever increasing cultural fixation and obsession with the single causative factor of them all: sex, including both licit and illicit sex, solely for the sake of sexual gratification.  It is now a cultural obsession.  It is the opposite of cultural decency. 
All the things contraception was supposed to prevent, increased, including unwanted pregnancies.  Contraception did nothing other than increase the causative activity: sex.  To obsessive levels.  Fornication; cohabitation; adultery; incest; abortion; homosexuality; prostitution; kept women; sadomasochism; pedophilia; the same social insanity that raged in ancient Sodom and Gomorrah.  There is nothing new under the sun.  All sin is addictive; one sin leads to another; one obsession leads to another.  There is only one Way to get free of sin. 

If we are to survive as a people, the Church has got to lead the way, by returning the whole Church to proper, unadulterated, unified, unresisted, unvarying, original Church teaching on artificial contraception, and working down from there.  There is no difference between a man using a condom and Onan spilling his seed on the ground.  It is precisely the same mortal sin. 
God has not moved. 
Man can call all the "Reformations" he wants to call, but the only thing he can reform is man.  God cannot be reformed.  His Word cannot be broken.  Take fair warning: the sins of the father are visited upon the son.  Note well the lesson of the Original Sin.  It was not our sin, but our original parent's sin, from which we had to be redeemed by Christ.  Still, we must willingly cooperate with that redemption.  We will come into His Church by our own free will choice, or not at all. 

What the head of the household does, regarding living in grace or living in sin, affects his whole family.  Individual salvation is available, of course, but the family usually behaves as a unit, and salvation - like damnation - comes easier in a family or larger like-minded community. 

Note that Noah was judged to be righteous; therefore, he and his family entered the ark.  Everyone else died in their sin.  Abraham was a just man; he and his tribe followed the Lord's instructions.  When Cornelius decided to be baptized, he and his whole household were baptized. 
Sodom and Gomorrah were utterly destroyed.  Whole families, including all children, infants, all who were too young to ever sin on their own.  It was the whole culture that was so contaminated with sin as to be beyond voluntary redemption.  The only way they could have saved themselves, and the only way we can save ourselves, is to turn our faces back to God in full repentance for our sins and with full commitment to serving Him Who made all that is good, and keeping His Commandments. 
If the Princes of the Church don't lead the way, it ain't gonna happen. 
=

See It's our morality, stupid, which led to our current state of Treason. 

---
Update Thursday, February 26, 2015:
Michael Voris of ChurchMilitant.tv has done it again.  He has highlighted the most significant "Tower of Babble Moment" inside the Catholic Church.  This divisive, destructive and insidious movement may prove to be worse than the Fractured Christianity resulting from Luther's rebellion, because it's happening inside the Church.  It raises the possibility of a Spirit-of-the-Council-Nazi Movement inside the Church, akin to all the other treacherous Divide And Conquer movements currently under way in America.  The whole thing appears to me to be an effort to destroy belief in the True Presence in the Eucharist, and to totally de-emphisize the importance of Eucharist, the central point of Catholic faith.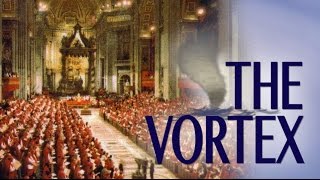 Click the image to watch the video presentation. 
This is vitally important information, and many of you may be surprised that none of it came out of Vatican II.  I am going to copy the transcript right here for your convenience.  After you watch this video, watch the Mic'd Up episode for the nitty-gritty details.  God bless.

Vatican II – Parish Watch
vort-2015-02-25
Hello everyone and welcome to The Vortex where lies and falsehoods are trapped and exposed. I'm Michael Voris.
If you are one of the few Catholics who actually still go to Mass weekly and on Holy Days, you are more than likely attending a parish that can be aptly described as a "Spirit of Vatican II" parish.
That is to distinguish from the overly simple notion of a Vatican II parish. The difference between a Vatican II parish and a parish imbibing on the SPIRIT of Vatican II is quite remarkable.
You see, Vatican II didn't do any of the things or mandate any of the changes that liberals and progressives have jammed down our throats now for two and half generations.
A SPIRIT of Vatican II parish has a huge number of warning signs that you need to look out for. And we mean look out in the sense of – look out for your soul and the souls of your loved ones.
Here are some of the warning signs – if your parish exhibits more than 5 of these 10 symptoms of the Spirit of Vatican II fever, you need to seriously consider finding another parish.
Number 10 – girl altar boys. Vatican II never ordered it. But the SPIRIT of Vatican II crowd did it in the name of Vatican II.
Number 9 – Holy Communion in the hand. Vatican II never ordered it. But the SPIRIT of Vatican II crowd did it in the name of Vatican II.
Number 8 – Incorrectly called, Eucharistic ministers - Vatican II never ordered it. But the SPIRIT of Vatican II crowd did it in the name of Vatican II.
Number 7 – Moving the tabernacles out of the sanctuary. Vatican II never ordered it. But the SPIRIT of Vatican II crowd did it in the name of Vatican II.
Number 6 – Constant lack of preaching on the hard truths of the Faith. Vatican II never ordered it. But the SPIRIT of Vatican II crowd did it in the name of Vatican II.
Number 5 – The parish Religious Ed programs being run by unknowledgeable (and often times unfaithful Catholics). Vatican II never ordered it. But the SPIRIT of Vatican II crowd did it in the name of Vatican II.
Number 4 – Homosexual friendly priests and bishops. Vatican II never ordered it. But the SPIRIT of Vatican II crowd did it in the name of Vatican II.
Number 3 – Constant emphasis on the sameness of all religions. Vatican II never ordered it. But the SPIRIT of Vatican II crowd did it in the name of Vatican II.
Number 2 – Putting a sign out front that no longer reads Catholic Parish, but now reads Catholic Community. Vatican II never ordered it. But the SPIRIT of Vatican II crowd did it in the name of Vatican II.
And the number one symptom to be aware of – the overall Protestantization of the Mass to downplay Catholic identity and faith. Vatican II never ordered it. But the SPIRIT of Vatican II crowd did it in the name of Vatican II.
In regard to the last point – girl altar boys and Holy Communion in the hand as well as mislabeled Eucharistic ministers are just a small number of ways Protestant gobbledy-gook has found its way in to almost every parish.
When the protestant stuff came in, the Catholic stuff got shoved out to accommodate it.
Out went the priest facing God, like the people did, and instead, the floorshow began with the priest singing for his supper, smiling and entertaining the "audience" in the pews.
Out went Latin – in came the vernacular, and most of it completely dumbed-down to boot.
Sacred music hit the dumpster to make room for sappy songs written by a bunch of men who eventually came out about their homosexuality and moved to San Francisco to live together in various interchangeable sodomite relationships.
The vestments went from noble – to well – flat out ugly.
Statues became viewed as too medieval and very insulting to non-Catholics, so they got thrown out and nice white barren walls were left behind.
The altar rail – the communion rail – had to be scrapped because there was a major de-emphasis on the Real Presence of Our Blessed Lord in the Eucharist, and this was a way of drilling home into people's minds that Holy Communion was not much more than stepping up and getting your special bread – literally hand delivered.
But Vatican II never ordered anything of this – not one thing. It didn't say for the priest to face the people. It didn't say to scrap Latin, its didn't say bring in protestant music. Nothing. Not one thing that the average Catholic sees each Sunday did Vatican II order.
But there is also another war – this one a little more hidden – raging over Vatican II and this one was about the DOCUMENTS of the Council. And here too, the SPIRIT of Vatican II crowd worked its magic – taking advantage of vague and ambiguous language that needed and still needs tightening up and clarification.
And all of this is the subject of this week's Mic'd Up Program – The Real Spirit of Vatican II - coming at you tonight.
Only evil-minded people profit from confusion in the hearts and minds of Catholics.
They are able to sneak in their wicked agendas, weakening the faith and self-understanding of the faithful.
Well tonight, time to shine the light on all this and get you asking questions AND THEN demanding answers from your priests and parish councils.
Venerable Bishop Fulton Sheen once famously said – its up to the laity to save the Church – so – get cracking.
Tune in tonight to Mic'd Up! – The Real Spirit of Vatican II. Just click on the link.
GOD Love you.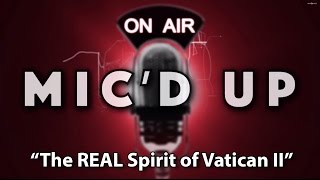 I have been railing against most of this stuff for a long time, but much of this is new to me.  What it makes me most aware of is how widespread it is.  You see this stuff just about everywhere you go.  The only way I know of to avoid it all, is to go to one of the Churches associated with the Confraternity of St. Peter, where the Pastor is of that order (FSSP).  Or, if you are very lucky, you may find a Church like Assumption Grotto in Detroit. 
The question Michael puts before us is, are we all going to just go hunting for a thoroughly Catholic Parish, or, are we going to work to change the ones we're in? 
I bid you good thinking. 

=====
Sarcastic Acronym Hover-Link Footnotes: For the convenience of those readers using devices that lack a mouse, these footnotes are provided for all webpages, in case any webpage contains any hover-links. (If you don't have a mouse, you can't "hover" it over a link without clicking just to see the simple acronym interpretation. Click any footnote link to see the acronym and a detailed explanation; "hover" the mouse over it just to see the simple interpretation.)
SLIMC1
Secularist Liberal Intellectual Media Complex
GESGOEAEOT2
Gradually, Ever So Gradually, Over Eons And Eons Of Time
PEWAG3
Punctuated Equilibrium's Wild-Assed Guess
TTRSTF4
Them There Real Scientifical-Type Fellers
TTRSPTF5
Them There Real Smart Perfesser-Type Fellers
TTRSJTF6
Them There Real Smart Journalistical-Type Fellers
SNRTACBT7
Surely No Right Thinking Adult Could Believe Today
STNSEACPB8
Surely Today No Serious Educated Adult Could Possibly Believe
WDN9
We Don't Know
BMDFP10
Baboons, Mongrel Dogs, Filthy Pigs and ...
HBAACOTE11
Human Beings Are A Cancer On The Earth
ACLU12
Anti-Christian Litigation Union
FLORMPORIF13
Flagrant Liar, Or, Mindless Parrot, Or, Innocent Fool
MEJTML14
Marxist Ends-Justify-The-Means Liar
IEJTML15
Islamic Ends-Ends-Justify-The-Means Liar
MPAV16
Marxist Principles And Values
WBESSWG17
Wise, Benign, Elite, Super-Scientific World Governance
TRMITM18
The Reason Man's In This Mess
IYI19
Intellectual Yet Idiotic
TTRSCBTF20
Them There Real Smart Catholic Bishop Type Fellers
IACMPVND21
Illegal-Alien-Criminal Marxocrat-Party-Voting Nation-Destroyers
PEJTML22
Palestinian Ends-Justify-The-Means Liar
PSYOP23
"Psychological Operation" Mind Trick
CDC24
Covid Developmentally Challenged
LGBTQ+25
Every Letter Represents A Serious Psychotic sexual Identity Disorder
[All Web Pages listed in Site Map by date-of-publication;
oldest at the top, newest at the bottom of the list.]

Culture=Religion+Politics;  Who Are We?  Vic Biorseth
The Brilliantly Conceived Organization of the USA;  Vic Biorseth
Return to the BLOG page
Return to the HOME PAGE
Subscribe to our Free E-Zine News Letter
Respond to This Article Below The Last Comment

Comment
Respond to this WebPage immediately below the last comment.
Or,
---
Date:  Thu Feb 12 06:47:41 2015
From:  Mickey Grace
Email:   migrace1@gmail.com
Location:  Tucson, AZ, United States
Comment: 
According to 5:27, the day is coming when the church will not have spot or wrinkle. Spots come from wounds, and wrinkles come from oldness. Through Christ's sanctifying work, the church will eventually be without spot or wrinkle. She will be holy and without blemish. To be holy is to be saturated and transformed with Christ, and to be without blemish is to be spotless and without wrinkle. One day the church will be fully transformed. Only Christ can bring the church to such a condition. The Christ who is the embodiment of God is the Christ who loves the church and is cleansing her by the washing of the water in the Word.
It is contrary to the Scriptures to say that the church life will be in the coming age. The next age will not be the age of the church; it will be the age of the kingdom. In this present age, before His coming back, the Lord must have the church life to shame the enemy. I believe that for centuries Satan, the enemy of God, has been challenging Christ concerning the church. Perhaps Satan has said to Him, "Where is Your church? Show me the church You have promised to build. Some of Your servants even teach that it is not possible to have the church life in this age." Perhaps Christ is saying to Satan, "Satan, look at the local churches on earth today. Consider how many of My people are testifying that it is possible to have the church life in this age. They are not only for the church life, but are in the church life in a practical way.


---
Date:  Thu Feb 12 2015
From:  Vic Biorseth
Comment:  
Mickey:
Well said.  You left out the Book reference for you Scripture quote.  It is Ephesians  5:27. 
There is a question in my mind regarding your reference to "local churches on earth":  how many such good Dioceses and Archdioceses, if any, and how many local Parishes, are, or will be, found in America when He comes. 
Perhaps I love my country too much. 

Regards,
Vic
---
Date:  Thu Feb 12 12:56:52 2015
From:  Greg Luce
Email:   luce1112@msn.com
Location:  Cheyenne, WY
Comment: 
Vic, I love your concise thinking and appreciate you in helping me grow in my Catholicism.  Just a editorial note in the third to last paragraph. Noah instead of Jonah entered the ark. God Bless You.

---
Date:  Thu Feb 12 2015
From:  Vic Biorseth
Comment:  
Greg:
Thank you so much!  I have corrected the paragraph; sometimes I get my Biblical characters mixed up.  I'm getting old, you know. 
May the blessing of the Lord be upon you. 

Regards,
Vic
---
Language and Tone Statement

Please note the language and tone of this monitored Website. This is not the place to just stack up vulgar one-liners and crude rejoinders.  While you may support, oppose or introduce any position or argument, submissions must meet our high Roman Catholic and Constitutional American standards of Truth, logical rigor and civil discourse.  We will not participate in merely trading insults, nor will we tolerate participants merely trading insults.  Participants should not be thin-skinned or over sensitive to criticism, but should be prepared to defend their arguments when challenged.  If you don't really have a coherent argument or counter-argument of your own, sit down and don't embarrass yourself. Nonsensical, obscene, blindly & doggedly anti-Catholic, anti-American, immoral or merely insulting submissions will not be published here.  If you have something serious to contribute to the conversation, be prepared to back it up, keep it clean, keep it civil, and it will be published.  We humbly apologize to all religious conservative thinkers for the need to even say these things, but the Hard Left is what it always was, the New Leftist Liberals are what they are, and the Internet is what it is. 
"Clickbait" advertising links are not acceptable for posting here. 
If you fear intolerant Leftist repercussions, do not use your real name and do not include email or any identifying information.  Elitist Culturally Marxist Pure Authoritarians cannot and will not tolerate your freedom of speech or any opposition to their rigid authoritarian, anti-equality, anti-life, anti-liberty, anti-property, hedonistic, anti-Constitution, pro-Marxist, pro-Islam, anti-Catholic, anti-Christian, anti-Semitic, anti-male, sexist, pro-homosexual, anti-heterosexual, anti-white, racist, anti-Western, anti-American, Globalist, anti-Nation, blatantly immoral, totally intolerant and bigoted point of view. 
Copyrighted Material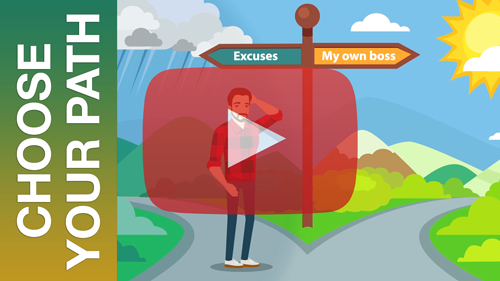 Solopreneur Opportunity Links, for a
Solo Build It WebSite