Site best viewed on a computer screen - not optimized for cell phones
Latest 50 articles published or updated here: BLOG (Web-Log) Page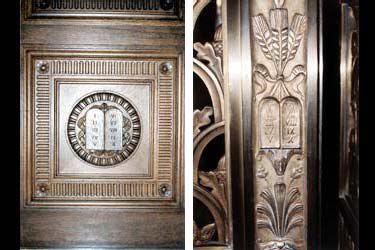 Ten Commandments in ornate carvings and copper fixtures on the doors of the United States Supreme Court
Destructive Commandment, Natural Law and Constitution Violations
Getting America Back To Basics: Human Civilization Is Built On The Commandments Of God; Outside The Commandments Is Human Barbarity
Vic Biorseth, Monday, January 30, 2023
https://www.CatholicAmericanThinker.com/
Our Declaration of Independence speaks of "the laws of nature" and of "nature's God", and of our Creator, and of certain inalienable human rights endowed by that Creator. The authors were building the American nation on the bedrock of the "love of neighbor" commandments, which define man's proper morality. Because they were all of mixed and opposing denominations of Christianity, they were avoiding the "love of God" commandments, which define man's proper theology.
Christian Morality is in the domain of Christian secular governments;
Christian Theology is in the domain of Christian clerical governments.
Christian Morality - the love-of-neighbor Commandments - formed the foundational bed-rock upon which the United States of America was first Declared and then Constituted into being.

Let's look at the Ten Commandments. 

Catholic Counting

1. I am the Lord your God; you shall not have strange gods before me.

2. You shall not take the name of the Lord you God in vain.

3. Remember to keep holy the Lord's day. 

4. Honor your father and your mother. 

5. You shall not kill.

6. You shall not commit adultery. 

7. You shall not steal. 

8. You shall not bear false witness against your neighbor. 

9. You shall not covet your neighbor's wife.

10. You shall not covet your neighbor's goods.

Protestant Counting

1. I am the Lord your God; you shall not have strange gods before me. 

2. You shall not make unto thee any graven image. 

3. You shall not take the name of the Lord your God in vain.

4. Remember to keep holy the Lord's day. 

5. Honor your father and your mother. 

6. You shall not kill. 

7. You shall not commit adultery.

8. You shall not steal. 

9. You shall not bear false witness against your neighbor. 

10. You shall not covet your neighbor's house, nor his wife, nor his goods. 
The first three (four in the Protestant counting) Commandments are the "love of God" Commandments, from which flow the Theological Law. The last seven (six in the Protestant counting) Commandments are the "love of neighbor" Commandments, from which flow the Moral Law.
We can see that Protestantism breaks the Christian counting of the first Commandment into two, and combines the 9th and 10th into one. The reason is that Protestantism kept the pre-Christian Jewish prohibition of "graven image" making because, until Jesus Christ, no one had ever seen the face of God, and the Jews do not believe that Jesus Christ was God. Yet, Jesus Himself tells us Who He was, and is. 
Jesus saith to him: Have I been so long a time with you; and have you not known me? Philip, he that seeth me seeth the Father also. How sayest thou, shew us the Father?--John 14:9

With that identification, man had seen the face of God, and man was then free to make icons of God and venerate them, with all veneration of the icon passing on to the One represented by the icon. 
But how do the Commandments treat the argument between Socialism and Capitalism, which actually is, the argument between private ownership of property and communal ownership of property?
Implicit within Honor Thy father and Thy mother is the sacredness of the normative family, and the presumptive right of parents to first authority over their own children, and to special social protections for the family.
Implicit within Thou shalt not kill is the inalienable right of all innocent human beings to continue to live.
Implicit within Thou shalt not commit adultery is the sanctity and inviolability and protected nature of the marriage covenant, and, again, the sanctity and protected nature of the family.
Implicit within Thou shalt not steal is the inalienable right to private property: the right of an individual to actually own something.
Implicit within Thou shalt not bear false witness is the protected and sacred nature of truth, and the moral requirement to protect it and to profess it fully and without distortion.
Implicit within Thou shalt not covet is, again, the sanctity of marriage, and, again, the protected right to own private property.
You can't get around it. These are the Moral Commandments; this is Moral Law, it is the Law Of Neighbors and it is Natural Law. This is what Catholics and Protestants and even Jews hold in common.
Our Moral Political Common Ground, Despite Our Major Theological Differences.
This is basic right and wrong. This is how all people who, rightly or wrongly, call themselves Christians or Jews are supposed to live with each other, As Neighbors, regardless of their divergent theologies and regardless of how they worship. 
You don't need any fancy degree, and you don't need to be an ordained cleric or a consecrated religious to know this stuff. This is all basic, fundamental, even elementary Catholicism. All confirmed Catholics should know it, and all Protestants, of whatever denomination, should know it. This is how all Christians and Jews tell right from wrong; this is, or should be, the beginning point of American Politics. 
This is, or should always be, the bedrock foundational basis for all legislated representative civil law.  The fully mature adult properly raised in a Western Culture Family and Religion, has recognized, experienced and embraced the spiritual aspects of the Natural Law, and has become religiously motivated to love it, obey it and pass it on to his children. 
And what we are looking at today is what happens after Christianity itself has been completely removed from the picture. 
The USA was a Christian nation at birth. The original colonial religions were:

Rhode Island
Pennsylvania
Maryland
Connecticut
Georgia
Massachusetts
North Carolina
New Hampshire
South Carolina
Virginia
Florida

West Indies
New York
Delaware
New Jersey


Baptist
Quaker
Roman Catholic
Congregational
Church of England
Congregational
Church of England
Congregational
Church of England
Church of England
Catholic (Spanish era) Church of England (British era)
Church of England
Church of England
Undifferentiated Christian
Undifferentiated Protestant

The primary if not whole reason that the original pilgrims and later European immigrants came here to form the colonies was to escape the brutal Protestant imposition of specific Christian denominationalism upon the citizenry. After the Protestant Reformation wars, European citizens either adopted the denomination of the current king, or they were persecuted, even unto death.
The whole reason for First Amendment freedom of worship, established by the prohibition of the federal government from establishing a national religion, was to end dictated religion and leave the citizenry free to worship in their preferred Christian denomination.

Now, contemporary Americans may argue about whether the original authors, framers and ratifiers of the Declaration and the Constitution were all perfect Christians, or Deists, or atheists, or agnostics, or even Freemasons. But there can be no argument regarding their morality, which was Christian, to a man. All of them held to the exact same sense of right versus wrong. And all of them, with very few notable exceptions, observed Sunday service in some Christian Church. Even the Deists, and even the Freemasons.
From the very beginning American law was based on Christian morality.

The Marxist Cultural Revolution has been working its evil for a hundred years, distracting from if not demonizing Christianity, and the "sex, drugs and rock and roll" set have already largely turned America's original Christian morality upside down. To the rock n' roll set, morality is immoral, and immorality is moral. The more dope they smoke and the more illicit sex they practice the more immoral they become.
Religion is no after-thought for them; it is a non-thought.

For much of the rest of contemporary America Christian religion has been "compartmentalized" and separated out from the living of life. Christianity is for Sundays and special occasions only, and all the rest of the time other subjects dominate, and religion is kept out of all other subjects and areas of the living of life.
And that's American government and American citizenry's main problem.

Christianity is something to be lived, not "compartmentalized", and not kept separate from any part of citizen life. It is supposed to be the main driver of life.
What could be more important than God?

Well, what is more important than God, for the godless and ungodly, is,
The ability to violate law and get away with it.
The ability to annihilate law and establish anarchy.
The growing inability to distinguish reality from their own lies.

The ability to establish new law of one's own invention.

Godlessness, immorality and unreality go together. Wherever you find one you will find the other two.

---
Contemporary American Government Is Increasingly Ungodly, Immoral And Unreal

---
From the clearly and almost openly criminal Biden Presidency and the clearly and almost openly Marxist and anti-American Marxocrat Party on down, this current federal government of the USA, quite unconstitutionally and therefore quite illegally,

Imposes and protects "rights" to abort people on all formerly sovereign United States against their will and in spite of their opposition.
Establishes and legally defends "rights" of men to enter lady's rooms and locker rooms all across the land, whether any citizen or any state or local government likes it or not.
Establishes gun control laws, gun sale licensing, restrictive gun sale and transfer rules, gun type limitations, ammunition restrictions and limitations, gun registration requirements and more, all infringements on the Second Amendment, and seeks to repeal the Second Amendment, to affect all states, localities and citizens, whether they like it or not.
Establishes and protects "rights" of teachers, councilors and doctors to conspire to chemically and surgically mutilate sex organs of American children without the knowledge let alone consent of their own biological parents.

Establishes racist "hate crime" and "hate speech" laws to force everyone in America to to pretend that black Americans need special protections and a special legal elevation over everyone else.
Establishes racist "Affirmative Action" and "Equal Opportunity" laws to establish special rights for some races and less rights for other races in the hiring, firing, promoting, grading and qualifying of citizens in schools, employment and politics.

Through the unconstitutionally and therefore illegally existing regulating bureaucracy of the Department Of Education, this government teaches all American children in all states to embrace all the lies of,

The "virtue" of open homosexuality.
The "evil" of opposition to open homosexuality.

The "fact" of more than two genders.
The encouragement and prodding of little children to "find their true gender(s)".
The "superiority" of socialism and communal property over citizen liberty and private property.

The inherent evil racism and racially oppressive nature in white people and the inherent victimhood and racially oppressed nature of people of color.

That there is and can be no such thing as a racist person of color, and there there is and can be no such thing as a white person who is not a racist.
That the USA was born of racism and remains systemically racist, top to bottom.
That is was the entire USA, and not the Democrat Party, that fought abolition, ran the slave trade, formed the Confederate States, fought for slavery in the Civil War, lost the Civil War, established the "black codes", the Jim Crow laws, the KKK and manned the fire hoses, clubs and dogs opposing the MLK peace movement.
That the carbon dioxide in Coca Cola and all carbonated drinks is dooming all life on earth.

That we are all going to die young because evil grandpa and grandma drove an evil SUV.
That if you could make a greenhouse out of panes of permeable gas rather than impermeable glass, it would work.
That coal, oil, natural gas and nuclear energy are all contributing to the early end of all life on earth.
That only blind obedience to wise and scientific centralized government can save the earth, or stave off the end of the world for awhile, or colonize Mars.

Colludes and conspires with Mexican crime cartels, Catholic Charities, the Chinese Communist Party, the Francis Vatican, the UN and the EU to bring millions of migrants from all over the world illegally into the USA.
Imposes completely ineffective and even harmful masking, vaxing and boosting rules on military members, government employees and everyone it can, under pain of loss of employment and benefits, and encourages other governments and corporations to do the same.
Spends trillions of American tax dollars ostensibly to stop the oceans from either boiling or rising, and stopping other incredibly stupid theories from realization, but really, to increase the profitability of government corruption and to economically break America, while personally profiting.
Cuts defense and multiplies & raises all citizen dependency payments simultaneously.
Establishes "The Biden Model" of new rules for appointment to high government office, rather than competency, to score high by checking the most boxes as listed below:

Biologically (and therefore obviously) female;
Actually (and therefore obviously) a person of color;

Homosexual;
Self-idendifies as something it is not and cannot be;

Cross-dresses or is a flamboyant drag queen;

Has undergone sex change surgery;

Has changed "genders" at least once, with extra points for multiple times;
Holds graduate degrees in Queer Theory, Critical Theory, Critical Race Theory, Transsexual Theory, Ecological Doom Theory, Sexology, Sex Therapy,

Actually believes, or is very convincing in appearing to actually believe, that it is something that it is not and cannot ever be.

And that's not all, by a long shot. Just look at Biden's Vice President, his press secretary, his cabinet and all of his Presidential appointments. It's an absolute freak show of twisted perverts, deviates and nutburgers. He's not just out to end American national sovereignty and bring America down, like all other Marxists.
He is actually out to pervert America.

It isn't just Biden who is incompetent in his job. His whole government is incompetent, and not only that, but,
anti-American,

anti-Christian,
ungodly,
immoral,
and unrealistic, to the point of being anti-reality.

We have long held that "tolerance" of sodomy was a bait-and-switch goal of the sodomites. Today, you will not only tolerate, but embrace, praise, celebrate and uplift sodomy, or you will suffer the most severe of consequences.
The sodomite movement is just as deadly to human liberty as are Marxism and Islam.
Wake up to it and face it.

---
The only thing Truth has going for Him in this world is us. 
The restoration of Truth = Reality in the hearts and minds of men is now totally dependent upon you and me; if we don't do it, it won't get done.
Sign the Letter to your Bishop, and make our Church Catholic again. 
Join Cardinal Burke's Storm Heaven Rosary Campaign.
Get behind a President Trump and a Vice President Donald Trump Jr, and make America Constitutional again. 
Pray for a strategic collaboration between Abp. Vigano and Trump.
=====
EENS:  Extra Ecclesiam Nulla Salus
(Outside the Church there is no salvation)


With fear and trembling, work out your salvation--Phil 2:12
Seek the Truth; Find the Way; Live the Life.
Please God, and Live Forever.
=====
Sarcastic Acronym Hover-Link Footnotes: For the convenience of those readers using devices that lack a mouse, these footnotes are provided for all webpages, in case any webpage contains any hover-links. (If you don't have a mouse, you can't "hover" it over a link without clicking just to see the simple acronym interpretation. Click any footnote link to see the acronym and a detailed explanation; "Hover" the mouse over it just to see the simple interpretation.)
SLIMC1
Secularist Liberal Intellectual Media Complex
GESGOEAEOT2
Gradually, Ever So Gradually, Over Eons And Eons Of Time
PEWAG3
Punctuated Equilibrium's Wild-Assed Guess
TTRSTF4
Them There Real Scientifical-Type Fellers
TTRSPTF5
Them There Real Smart Perfesser-Type Fellers
TTRSJTF6
Them There Real Smart Journalistical-Type Fellers
SNRTACBT7
Surely No Right Thinking Adult Could Believe Today
STNSEACPB8
Surely Today No Serious Educated Adult Could Possibly Believe
WDN9
We Don't Know
BMDFP10
Baboons, Mongrel Dogs, Filthy Pigs and ...
HBAACOTE11
Human Beings Are A Cancer On The Earth
ACLU12
Anti-Christian Litigation Union
FLORMPORIF13
Flagrant Liar, Or, Mindless Parrot, Or, Innocent Fool
MEJTML14
Marxist Ends-Justify-The-Means Liar
IEJTML15
Islamic Ends-Ends-Justify-The-Means Liar
MPAV16
Marxist Principles And Values
WBESSWG17
Wise, Benign, Elite, Super-Scientific World Governance
TRMITM18
The Reason Man's In This Mess
IYI19
Intellectual Yet Idiotic
TTRSCBTF20
Them There Real Smart Catholic Bishop Type Fellers
IACMPVND21
Illegal-Alien-Criminal Marxocrat-Party-Voting Nation-Destroyers
PEJTML22
Palestinian Ends-Justify-The-Means Liar
PSYOP23
"Psychological Operation" Mind Trick
CDC24
Covid Developmentally Challenged
LGBTQ+25
Every Letter Represents A Serious Psychotic sexual Identity Disorder
[All Web Pages listed in Site Map by date-of-publication;
oldest at the top, newest at the bottom of the list.]

Culture=Religion+Politics;  Who Are We?  Vic Biorseth
The Brilliantly Conceived Organization of the USA;  Vic Biorseth
Return to the BLOG page
Return to the HOME PAGE
Subscribe to our Free E-Zine News Letter
Comment
Respond to this WebPage immediately below the last comment.
Or,
---
Language and Tone Statement

Please note the language and tone of this monitored Website. This is not the place to just stack up vulgar one-liners and crude rejoinders. While you may support, oppose or introduce any position or argument, submissions must meet our high Roman Catholic and Constitutional American standards of Truth, logical rigor and civil discourse. We will not participate in merely trading insults, nor will we tolerate participants merely trading insults. Participants should not be thin-skinned or over sensitive to criticism, but should be prepared to defend their arguments when challenged. If you don't really have a coherent argument or counter-argument of your own, sit down and don't embarrass yourself. Nonsensical, obscene, blindly &doggedly anti-Catholic, anti-American, immoral or merely insulting submissions will not be published here. If you have something serious to contribute to the conversation, be prepared to back it up, keep it clean, keep it civil, and it will be published. We humbly apologize to all religious conservative thinkers for the need to even say these things, but the Hard Left is what it always was, the New Leftist Liberals are what they are, and the Internet is what it is.
"Clickbait" advertising links are not acceptable for posting here. 
If you fear intolerant Leftist repercussions, do not use your real name and do not include email or any identifying information.  Elitist Culturally Marxist Pure Authoritarians cannot and will not tolerate your freedom of speech or any opposition to their rigid authoritarian, anti-equality, anti-life, anti-liberty, anti-property, hedonistic, anti-Constitution, pro-Marxist, pro-Islam, anti-Catholic, anti-Christian, anti-Semitic, anti-male, sexist, pro-homosexual, anti-heterosexual, anti-white, racist, anti-Western, anti-American, Globalist, anti-Nation, blatantly immoral, totally intolerant and bigoted point of view. 
Copyrighted Material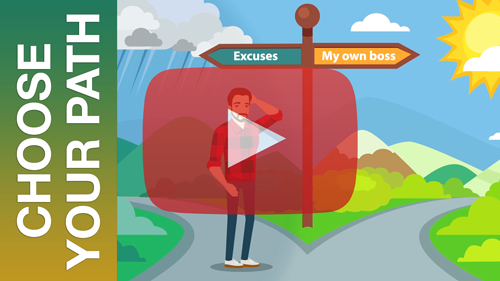 Solopreneur Opportunity Links, for a
Solo Build It WebSite