Site best viewed on a computer screen - not optimized for cell phones
Latest 50 articles published or updated here: BLOG (Web-Log) Page

What To Do About Our Closed Public Schools. (Psst: they ain't Public).
"Public" Schools are really state schools. They are all government property with all government employees and all under heavy government direction and control.
The Commie-19 Plandemic public school shut-down might be a blessing in disguise.
Vic Biorseth, Friday, February 26, 2021
https://www.CatholicAmericanThinker.com/
Over the years we have all been schmoozed into thinking they are public. But when the teacher's union goes on strike for higher wages, they are on strike against the government who pays their wages out of tax revenues, not the tax payers who actually pay the taxes, and who have no voice at all in the negotiations. The NEA works in cahoots with what used to be the Marxocrat Party, but is now the Unicrat Party, to just keep upping our taxes while teaching our children to hate us, and our nation, our laws, our traditions and everything we stand for. 
I invite you to carefully read Article 1 Secion 8 of our Constitution. These are the limited and enumerated areas that the constitution allows the Congress to address in law. If it is not listed in Article 1 Section 8 the Congress may not legislate anything regarding it. Constitutionally speaking, if the Congress cannot legislate it, then it cannot exist in American law, at the federal level. If it cannot exist as legislated law, then the President may not address it in any executive action, and the Supreme Court may not hear or adjudicate cases brought before it. 
Also, the Constitution nowhere grants the Congress the authority or the legal ability to "delegate" any of it's exclusive authority to legislate new law to any outside entity or unconstitutional bureaucracy that exists or that may be brought into existence for that purpose or any other. What that means is the the Department of Education, among many if not most other federal bureaucracies, illegally violates the constitution every single time it issues any "regulation" with any force of law behind it. 
Of course, we all know that the Congress, the Presidency and the Court have all cooperated in violating those rules, over and over again. 
That's the problem. 
Today, through it's early and ongoing conquest of world academia, which teaches, and which teaches and certifies teachers, Cultural Marxism and Gramsci Marxism owns, runs and operates all recognized formal education, not only in America, but all over the civilized world. 
Back in 2009 we made the argument against public education, which is, in fact, government indoctrination. And, we have long recommended Breaking Public Education. America was better off, and her people were better educated before public (government) education ever came to be.
It is noteworthy that Abraham Lincoln practiced law, never having gone to college, never having gone to any law school and never having passed any Bar exam. All you had to do in those days was to be able to read, because the law was written down. 
Why doesn't that seem to make sense any more? 
Perhaps we have all been "educated" out of our simple common sense. 
The uniquely America legal rights to equality, life, liberty and property, first written in our Declaration and then made into law in our Constitution, were declared to be authored by God, and Natural Law. 
And they are indeed recognized by all orthodox Christians and all orthodox Jews to be authored by God, and Natural Law. 
But the lies of Marxism insist on more rights, including unnatural rights. And Marxist education inculcates these phony rights into the minds of students. Cases in point, FDR's famous Four Freedoms; the educational Humanist Manifesto and the UN's Universal Declaration of Human Rights. (For the full universal declaration, click the image below).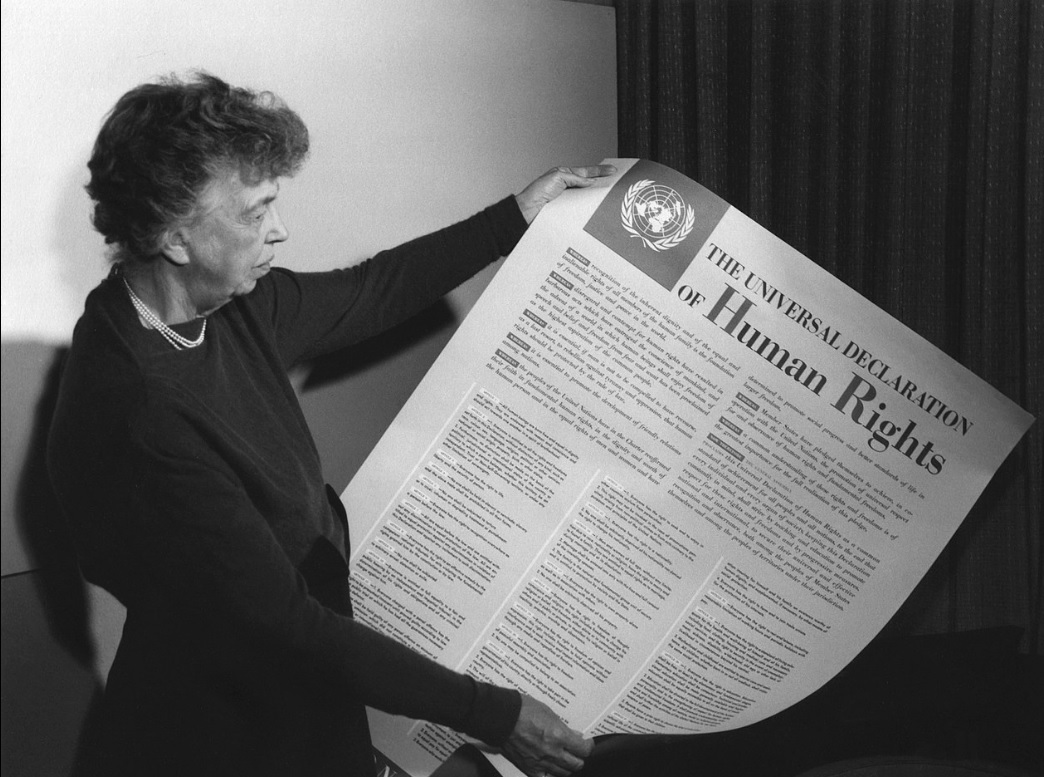 Original Main Sponsor Elinor Roosevelt with her UN Universal Declaration of Human Rights. (Comrade Madame Hillary claims to have "channeled" Elinor while living in the White House during the Comrade Billary administration.)
Now, the UN's declaration of human rights starts out good and gets the reader all enthusiastic, but then starts going off the rails at about article number 22, and the underlying Marxist ideology begins to come out in the open, pretending it all to be, among all the other rights, authored by God and/or Natural Law. Which is, of course, baloney.
Man does not have any natural law right to social security, or to a job, or to unemployment pay, or to any livable wage or any wage, or to any standard of living, or - especially - to any education. 
This UN declaration is a psychological turning of needs into rights. The fact that you might need something does not mean that you have any right to have it. It is a psychological removal of human responsibility. 
The UN is, to the United States, a foreign entity. We are ruled by our Constitution, and not by any foreign entity. No foreign entity may impose any laws or rules over our Constitution or over us. The Constitution is the supreme law of the land, and nobody gets to overrule it or override it. 
Every citizen in America is perfectly free to get themselves an education, as Abraham Lincoln did. The nation didn't do it for him; he did it himself. My grandmother, a Lithuanian immigrant, taught herself English, and the Constitution, and American history, and all the things she needed to know to become an American citizen. Nobody did that for her; she went out and did it herself. She didn't have any right to it; she had a need for it, and she took the responsibility for it unto herself and she did it. Nobody handed her anything. 
The Party that was, first, Democrat/Confederate, then, Marxocrat, and now, the Fascistic and not-so-secretly merged Unicrat Party, now runs the Washington Swamp that is invalidly in charge of the American government, under the fraudulently elected O'Biden-Harris administration. And this political "party" is illegally imposing or will illegally impose, at the federal level, all sorts of spurious and unconstitutional "rights" on the citizenry against their will, and against their Constitution. Here is what we have consistently said about any such "rights" herein:
Adulterers, easily divorced, even easier remarried, "significant-other" fornicators, promiscuous fornicators, homosexuals, transsexuals, masturbators, pornographers, contracepters, aborters, euthanizers, etc., have no legitimate "right" to not be discriminated against, shunned and anathematized, either in the Church, in decent culture or anywhere in America. The very idea that they have a "right" to do what they do, and that we and everyone else have an obligation to respect that right, is Marxist, and alien, and antithetical to Catholicism and to the very foundational American Idea. 

These "rights" of sexualism are antithetical to human civilization. No such "right" ever was or can ever be legitimately established in the moral law, and no such "right" ever was or ever can be legitimately established in American Constitutional law. 
Any such "right" would operate against God, against reality and against true science. 
They intend to force us to not discriminate against evil and falsehood. Here is what we have consistently said about such discrimination herein:
No Christian worthy of Heaven and no American Citizen worthy of American Citizenship gives a hoot about any other citizen's color, or race, or whether they be male of female. 
But every human being is born with a natural law right to
DISCRIMINATE between right and wrong, and between good and evil, and between natural and unnatural, and between true and false; 

and to DISCRIMINATE regarding moral acceptability;


and to DISCRIMINATE in their human interactions and human associations, whether they might be political, commercial, social, professional, educational, work-related, employment related, church related, family related or whatever. 
That will remain true so long as there is evil in the world. 
In the absence of discrimination there could be no Church. 
In the absence of discrimination there could be no Civilization.

In the absence of discrimination there could be no America. 
This whole ugly situation was born of the purposeful and malicious maleducation of Cultural Marxism. Education today is Marxist indoctrination, and news reporting today is Marxist propaganda. As is most entertainment. The fraudulently elected and faux O'Biden government is Fascist to the bone. 
Now, with so many schools shut down over the Commie-19 Plandemic - a good thing, in my opinion - everyone has a a chance to take a good hard look at the schools everyone is so desperate to open back up, and that our fraudulent elected government seems so intent on keeping closed. 
And I put a question to you:  Would we be better off it they didn't exist?
Before we look at alternative possibilities, let's look a little closer at what they have done and at what they are doing to America's children. 
We have pointed out, over and over again, how our "Dewey infected" education system has been cranking out maleducated "Revolutionaries" ostensibly in the interest of opposing demonized "authority", but really, in the interest of feeding future revolutions. To that end, whatever else professional educators might teach today, they teach opposition to authority, per Fromm and Maslow:
"The revolutionary is the man who has emancipated himself from ties of blood and soil, from his mother and his father, from special loyalties to state, class, race, party, or religion." --Eric Fromm & Abraham Maslow
There is nothing and no one left for the student to be alienated from. This is the "educational" making of potential sociopaths. 
The famous "Montessori" method of education was perhaps unwittingly incorporated into this anti-authority professional education mindset. Maria Montessori established effective teaching methods for children who were retarded or educationally sub-par in some way. Her method was highly successful, but then, she merged it with a modified education system for normal students, in the hope of bringing the sub-par, the par and the above-par students into the same classroom using the same teaching methods. 
As her life advanced, she was increasingly all about children's rights. 
Here is a pull-quote from Wikipedia about that:
Montessori was directly involved in the development and founding of the UNESCO Institute for Education in 1951. She was present at the first preliminary meeting of the UNESCO Governing Board in Wiesbaden, Germany on June 19, 1951 and delivered a speech.[91] She used the address as an opportunity to redouble her advocacy for the rights of the child – whom she often referred to as the "forgotten citizen" or "neglected citizen"[92] – by declaring:
Remember that people do not start at the age of twenty, at ten or at six, but at birth. In your efforts at solving problems, do not forget that children and young people make up a vast population, a population without rights which is being crucified on school-benches everywhere, which – for all that we talk about democracy, freedom and human rights – is enslaved by a school order, by intellectual rules, which we impose on it. We define the rules which are to be learnt, how they should be learnt and at what age. The child population is the only population without rights. The child is the neglected citizen. Think of this and fear the revenge of this populace. For it is his soul that we are suffocating. It is the lively powers of the mind that we are oppressing, powers which cannot be destroyed without killing the individual, powers which tend either towards violence or destruction, or slip away into the realm of sickness, as Dr. Stern has so well elucidated.[93]
December 10, 1951 was the third anniversary of the Universal Declaration of Human Rights and in observance of this UNESCO held a celebration. Montessori was one of the invited guests who would also deliver a speech to commemorate and memorialize the momentous occasion. Similar to her speech six months prior – in front of the UNESCO Board of Governors in Wiesbaden – Montessori once again took the opportunity to highlight the lack of any "Declaration of the Rights of the Child" stating in part, "in truth, the [Universal] Declaration of Human Rights appears to be exclusively dedicated to adult society."[94]
The so-called Dewey Revolution in education was, among other things, Marxist. And John Dewey himself was opposed to the Montessori method. But over time, the increasingly Marxist and anti-American education system recognized the un-traditional Montessori way as a potential tool in attacking authority, and glommed onto it, big time. 
The original class room organization involved student desks arranged facing the teacher, whose larger desk was at the head of the room. Holding children's rights to be vital, and perhaps equal to adult rights, the Montessori class arrangement put the teacher in a less authoritative position among the students. The classroom was arranged more in a circle, with the teacher in the circle and at the same level as the students. Younger classes might sit on the floor in a circle, with the teacher just one among the many, sitting on the floor. 
Eliminating children's respect for adult authority. 
In essence, the elimination of authority, and the making of individualistic revolutionaries who do not even know what they are or where they fit in in any larger group, if indeed they fit in anywhere at all. It is a super-independence, but perhaps a mentally fatal one, for man is a social being.
All schools are inculcating this anti-authority undercurrent beneath the rest of the curricula, whether public, private or parochial, if the teachers are "certified" to teach, because this anti-authority was part of their academic certification as teachers. But Public schools are worse in this regard because the teachers are paid and instructed by their employers, who are and have been, ever increasingly over time, the Marxist-dominated state, and especially the thoroughly Marxist federal Department of Education. Perhaps the deepest part of the unconstitutionally existing and quite illegally regulating Marxist Washington Swamp. 
All public school curricula comes right straight out of that swamp. 
Eliminating the Department of Education
That is why we long ago recommended Cutting the Education Department from the budget and shutting it down, permanently. It is a giant, bloated, treasury-draining anti-American Soviet, or Administrative Regulating Bureaucracy, which unconstitutionally "administers" all education in America. 
According to Article 1 Section 8 of the Constitution, and the 10th Amendment, education is a private sector problem and/or a state or lower jurisdiction matter, and not a matter for federal involvement at all. In this regard, it is in a "family" of unconstitutional bureaucracies and issues being illegally handled by the federal government, from abortion rights to the EPA, and more, that could have been and should have been declared to be unconstitutional and therefore null and void, by a President, a Congress, a Court, or someone.
Anyone sworn to uphold the Constitution. 
Why should any Ohio citizen's federal tax dollars go to support any part of the failing public school system in New York City?
With the elimination of ED and the elimination of federal funds going to public schools, every public school system in America would be put on a sink or swim on your own footing. States would have to very quickly determine whether to raise taxes sufficiently to cover the cut-off federal funds, or, to privatize the whole school system, or, to allow each of the individual public schools to privatize, and begin earning their keep through tuition alone. 
To compete on an equal footing with existing private schools, parochial schools, and home schooling. 
States that raised taxes sufficiently to fully fund their public school systems would soon lose population to those states that did not. 
The best course of action, from the viewpoint of the states, the counties and the school districts, might be to just give over full title of school building, grounds and equipment to the present employed administrators and teachers employed in the individual schools, and let them run it, for a profit, if they are able. 
Let them begin charging tuition and compete with the private, parochial and home schools on an equal footing. See if they can afford the expenses of insurance, maintenance and payroll as their competitors do. And if their union goes on strike for higher wages or anything else, they would do their negotiating, not with any government representatives, but with all the individual parents who pay the tuition that keeps them operational. 
They would find ways to please those who pay the tuition, or they would go out of business. It would be a free market sort of thing. 
How uniquely American. 
Don't expect anything like this the happen under an O'Biden regime.
But we can dream. 
---
---
The only thing Truth has going for Him in this world is us. 
The restoration of Truth = Reality in the hearts and minds of men is now totally dependent upon you and me; if we don't do it, it won't get done.
Sign the Letter to your Bishop, and make our Church Catholic again. 
Join Cardinal Burke's Storm Heaven Rosary Campaign.
Get behind a President Trump and a Vice President Donald Trump Jr, and make America Constitutional again. 
Pray for a strategic collaboration between Abp. Vigano and Trump.
=====
EENS:  Extra Ecclesiam Nulla Salus
(Outside the Church there is no salvation)


With fear and trembling, work out your salvation--Phil 2:12
Seek the Truth; Find the Way; Live the Life.
Please God, and Live Forever.
=====
Sarcastic Acronym Hover-Link Footnotes: For the convenience of those readers using devices that lack a mouse, these footnotes are provided for all webpages, in case any webpage contains any hover-links. (If you don't have a mouse, you can't "hover" it over a link without clicking just to see the simple acronym interpretation. Click any footnote link to see the acronym and a detailed explanation; "Hover" the mouse over it just to see the simple interpretation.)
SLIMC1
Secularist Liberal Intellectual Media Complex
GESGOEAEOT2
Gradually, Ever So Gradually, Over Eons And Eons Of Time
PEWAG3
Punctuated Equilibrium's Wild-Assed Guess
TTRSTF4
Them There Real Scientifical-Type Fellers
TTRSPTF5
Them There Real Smart Perfesser-Type Fellers
TTRSJTF6
Them There Real Smart Journalistical-Type Fellers
SNRTACBT7
Surely No Right Thinking Adult Could Believe Today
STNSEACPB8
Surely Today No Serious Educated Adult Could Possibly Believe
WDN9
We Don't Know
BMDFP10
Baboons, Mongrel Dogs, Filthy Pigs and ...
HBAACOTE11
Human Beings Are A Cancer On The Earth
ACLU12
Anti-Christian Litigation Union
FLORMPORIF13
Flagrant Liar, Or, Mindless Parrot, Or, Innocent Fool
MEJTML14
Marxist Ends-Justify-The-Means Liar
IEJTML15
Islamic Ends-Ends-Justify-The-Means Liar
MPAV16
Marxist Principles And Values
WBESSWG17
Wise, Benign, Elite, Super-Scientific World Governance
TRMITM18
The Reason Man's In This Mess
IYI19
Intellectual Yet Idiotic
TTRSCBTF20
Them There Real Smart Catholic Bishop Type Fellers
IACMPVND21
Illegal-Alien-Criminal Marxocrat-Party-Voting Nation-Destroyers
PEJTML22
Palestinian Ends-Justify-The-Means Liar
PSYOP23
"Psychological Operation" Mind Trick
CDC24
Covid Developmentally Challenged
LGBTQ+25
Every Letter Represents A Serious Psychotic sexual Identity Disorder
[All Web Pages listed in Site Map by date-of-publication;
oldest at the top, newest at the bottom of the list.]

Culture=Religion+Politics;  Who Are We?  Vic Biorseth
The Brilliantly Conceived Organization of the USA;  Vic Biorseth
Return to the BLOG page
Return to the HOME PAGE
Subscribe to our Free E-Zine News Letter
Comment
Respond to this WebPage immediately below the last comment.
Or,
---
Language and Tone Statement

Please note the language and tone of this monitored Website. This is not the place to just stack up vulgar one-liners and crude rejoinders. While you may support, oppose or introduce any position or argument, submissions must meet our high Roman Catholic and Constitutional American standards of Truth, logical rigor and civil discourse. We will not participate in merely trading insults, nor will we tolerate participants merely trading insults. Participants should not be thin-skinned or over sensitive to criticism, but should be prepared to defend their arguments when challenged. If you don't really have a coherent argument or counter-argument of your own, sit down and don't embarrass yourself. Nonsensical, obscene, blindly &doggedly anti-Catholic, anti-American, immoral or merely insulting submissions will not be published here. If you have something serious to contribute to the conversation, be prepared to back it up, keep it clean, keep it civil, and it will be published. We humbly apologize to all religious conservative thinkers for the need to even say these things, but the Hard Left is what it always was, the New Leftist Liberals are what they are, and the Internet is what it is.
"Clickbait" advertising links are not acceptable for posting here. 
If you fear intolerant Leftist repercussions, do not use your real name and do not include email or any identifying information.  Elitist Culturally Marxist Pure Authoritarians cannot and will not tolerate your freedom of speech or any opposition to their rigid authoritarian, anti-equality, anti-life, anti-liberty, anti-property, hedonistic, anti-Constitution, pro-Marxist, pro-Islam, anti-Catholic, anti-Christian, anti-Semitic, anti-male, sexist, pro-homosexual, anti-heterosexual, anti-white, racist, anti-Western, anti-American, Globalist, anti-Nation, blatantly immoral, totally intolerant and bigoted point of view. 
Copyrighted Material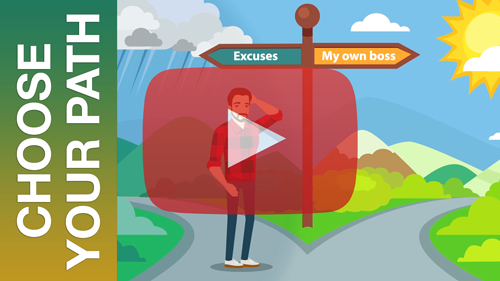 Solopreneur Opportunity Links, for a
Solo Build It WebSite