Site best viewed on a computer screen - not optimized for cell phones
Latest 50 articles published or updated here: BLOG (Web-Log) Page

Definition of Pro American.

Vic Biorseth, Monday, October 26, 2009
http://www.CatholicAmericanThinker.com
The dictionary definition of pro-American is to support the United States of America and her policies; very simple and straight forward. However, even a cursory glance at official government policy in the USA today shows a radical opposition to virtually everything the USA has historically stood for. Supporting current government policy says nothing about supporting the ideals and intentions of the founders and the framers, and the history of America up until now. And it says nothing about the American Constitution, the legal document that literally and legally defines the American government.
Our definition of pro American defends the American Constitution.
You have heard it said that we are a nation of laws, and not just of men.
America is nothing without her Constitution.
The very nature of the American nation is totally dependant upon a government constrained by, and a citizenry both liberated and constrained by, the Constitution of the United States of America. It is a limited government, a liberated citizenry, and a large, strictly private sphere of commerce and business activity that is beyond the reach of government that creates our unique American Exceptionalism. That is what our Constitution does. Or, perhaps more correctly, that is what our Constitution was designed and intended to do.
Open competition in the free market is what built the American nation and made her the greatest wealth producer, government revenue producer and world-feeder in history. Keeping government constrained within the limits set by the Constitution, and maintaining a reasonable private sphere of legitimate, legal and moral activity of free men beyond the reach of government is the pro-American approach.
When the Constitution is weakened or violated or ignored to the point that it no longer matters or makes any difference in American life, then, America will be no different than any other country, and there will be no point in being pro-American.
When American government interferes with or takes command of private business transactions, changes or violates terms of existing contracts, involves itself in commercial enterprises, wages, prices, profits, business decisions, loans, financing, interest rates, manufacturing, banking, insurance, or in any way orders or mandates any formerly private business activity, then America will have become just another dictatorship, and her Constitution will be nothing more than an interesting but dead historical document.
We will have become just another nation of men, and not of laws.
Our definition of pro American supports American moral norms.
Our private and public behavior as individuals and as a people, our civil law, even our Constitution, are dependent upon a common sense of right versus wrong. There always must be some clearly defined and broadly accepted basis for determining right from wrong before we can make even the simplest rule, let alone civil law. From household rules, to social etiquette, to civil laws and even State or Federal Constitutions, there must be some broadly recognized standard within the culture, or we can only make arbitrary and temporary rules that may be changed on a whim. A stable society needs a set of firm moral rules that are widely recognized and broadly accepted. Any distinct and recognizable social order needs some form of continuous tradition in order to continue to be a distinct and recognizable social order.
The complete absence of tradition and social rules of order is a definition of social chaos. The breakdown of tradition and social rules of order is the path to social chaos.
The moral code that underlies the American Constitution, the individual State Constitutions, American civil law at all levels and the private and public behavior of the vast majority of the American citizenry is the Judeo-Chrisitan Ethos, which is born of the Judeo-Christian Religion. At the root of this American national ethos lie the Ten Commandments.
The first three Commandments (four in the most common Protestant counting) define man's relationship with God, or his religion. In American tradition these first Commandments cannot be enforced under civil law, nor should compliance with them ever be discouraged by civil law. Ecclesial law addresses only the concept of immortality of the soul, and civil law addresses only the concepts affecting the mortal or physical life of man. Ecclesial authority knows that it cannot drag any man, kicking and screaming against his will, into salvation, and it does not try to do so. Civil authority in America is prohibited by the Constitution from directing any man into any Church, and is prodded by common sense toward encouraging and enabling men to worship as they please.
The last seven Commandments (six in the most common Protestant counting) define man's relationship with his fellow man, or his morality. These are the Commandments that under-gird all of civil law in America. The argument that we cannot legislate morality is completely bogus and false; that is what America has historically done, and that is precisely what is always needed to be done. Morality is exactly and precisely what must be legislated.
Almost definitively, social moral norms – morality – are divisive as opposed to inclusive, to use the currently popular political terms. Men will either live within and abide by the established and recognized social moral norms or they will not. To try and make a society's morality all inclusive is to act to destroy that society's morality. Destruction of a society's morality necessarily means the destruction of that recognizable society.
From the birth of the American nation, America's clearly recognized national Judeo-Chrisitan morality lies at the root of American civil law and provides the foundation of the unique American culture.
A brief study of history of Western Civilization history will show that, every nation that ever adopted contraception eventually moved on to adopt some form of eugenics and genetic engineering. And every nation that adopted eugenics eventually moved on to adopt abortion. And every nation that adopted abortion eventually moved on to adopt euthanasia. And every nation that adopted euthanasia eventually moved on to adopt genocide.
This is not a slippery slope; it is a cliff. This may be the most definitive difference between American culture and other cultures. Either human life is widely held to be sacred, or it is not. Either human life is worthy of social protection, or it is not. The pro American position is that it is. The anti American position is that HBAACOTE11 and that human populations absolutely must be "controlled" by wise elite rulers. For their own good. Which requires the movement of society toward the inevitable and necessary WBESSWG17 of the whole world.
Our definition of pro American supports the American Judeo-Christian religion.
We submit that America has had from birth and holds today to a common national religious belief, and that religious belief is in Judaism and Christianity in all of their diverse forms.
The primary impetus and motivational force that moves men to voluntarily embrace and adhere to the rules of American social morality involves the discernment of Divine Will, and the desire to accommodate that will. The believer seeks to please God. The only reason for the unbeliever to live within the social moral norm is to avoid disapproval of the larger culture. We all know that many unbelievers are unmoved by social acceptance.
When a moral norm is considered strong enough to be backed by representative civil law, as in laws covering robbery or murder, for instance, the only real reason an atheist may choose to live within the rule of law involves fear of punishment under civil law itself, for the atheist has no fear of God.
The perceived need to encourage and strengthen the moral fiber of the American population in general puts the pro-American position on a collision course with the secularism movement that seeks to control, weaken or even eliminate religion and religious topics from all public discourse, despite our First Amendment guarantee of our freedom of religious exercise and expression. Secularism is an anti-Constitution and anti-American activity.
We have previously argued that the rather stupidly developed separation of Church and state "principle" is un-Constitutional, bogus and concocted, based solely on personal whim and on nothing whatsoever in our Constitution, and should be overruled at the first opportunity by whichever one of the three co-equal branches of government that has enough common sense and love of nation to do it.
The pro American position seeks to simplify and get back to basics. The anti American position always seeks to complexify and obfuscate, almost always with some ulterior motive. The false claim is that, absent the aforementioned "constitutional" principle of separation of Church and state, the government will order people into some Church or other. It's a lie. It has never happened here, and is quite impossible.
Just try to order, for instance, the Baptists into Catholic Churches, or the Lutherans into Methodist Churches, and see what happens next. Americans have never and will never stand for such a thing. Brutal dictatorship would have to be imposed first, with a totally cowed and subjugated populace. It might be easier (but not easy) for American government to shut down all Churches and Synagogues than to order all American citizens into any one of them.
Our definition of pro American supports the Rule of Subsidiarity.
This is almost the exact opposite of any form of totalitarianism or dictatorship. The Rule of Subsidiarity says that the highest practical authority – most affecting our daily lives – rests in the lowest jurisdiction, and comes reasonably close to making the humble citizen the sovereign of the land, and to making the government the servant of the people.
If it isn't in the Federal Constitution, then the Federal Government has no business doing it. If it isn't in the State Constitution, then the State Government has no business doing it. The people most responsible for those things that most directly affect our daily lives should be the most accountable to us, and should face us regularly in our town halls, in the public square, and they should live and interact with us in our own local neighborhoods, and thus be subjected to their own government rules.
We have already spoken about Federal level involvement in such things as public education, national health care and similar things. How on earth did the Federal Government ever manage to create and grow such huge bureaucracies as HUD, just as one example? There is no constitutional mandate for federal involvement any housing or urban affairs outside of the District of Columbia. All of this giant, growing, hyper, super-government is super-expensive un-constitutional nonsense.
The Federal Government has no Constitutional business involving itself in such matters. Nor does it have any legitimate business legislating, regulating or otherwise seeking to change so much as the local weather, let alone the global climate. Perhaps someone in some other nation might not like whatever an American President commands the climate to do. Who is he to change the climate for everyone? These things are not only beyond the scope of our Constitution, they are beyond the scope of simple common sense.
The American Constitution is a thoughtfully argued, carefully crafted and cautiously amended legal document, written in English, that says very specific legal things. It describes the organization and operating rules for the governance of the United States of America. It establishes boundaries beyond which government may not go. It describes what government can do. This is another way of saying that it limits government action and government authority over the sovereign American citizen.
In limiting American government authority, our Constitution thereby defines American individual liberty.
Read it; it's well worth the time and effort.
Our definition of pro American is unabashedly patriotic and filled with nationalistic pride.
There is nothing wrong and everything right with any feelings or expressions of patriotism and nationalism that are not related to Communism, Fascism, Nazism or any other form of Marxism or Leftist ideology. Unlike Socialist countries and dictatorships of various description, America has a long and glorious history involving the creating, institutionalizing, protecting and growing of individual liberty, a very precious, yet little recognized or understood American citizen blessing today.
Remember, and never forget: liberty requires morality.
We the people, who now take this ephemeral thing called Liberty for granted and don't even fully recognize it, probably have more of it at this moment than any citizen in any other developed country. And yet we have less of it today than our parents had, and they had less than their parents had. It has been being un-Constitutionally legislated and regulated and adjudicated away from us for many generations now, and is now in the process of being crushed under a thoroughly Marxist President and a Marxist-controlled Senate and House of Representatives.
America's pseudo-sophisticated elite, our highest levels of sitting government, the
SLIMC1
and the majority of our leading academics despise America and everything she stands for. They hate her anthem, her flag and all expressions of patriotism; they hold all these things in elitist contempt.
They do not understand us. They have made themselves aliens.
They intend to eliminate citizen Liberty.
Our definition of pro American is divisive as opposed to inclusive.
To use the popular political campaign jargon of today, the Republicans practice the politics of division, and the Democrats practice the politics of inclusion. I submit that this terminology is only truthful regarding those Republicans who are truly pro American, and those Democrats who are truly anti American. The pro American position is divisive at just about every available level.
The Law of Moses was and is, precisely, divisive. People obey it, or they do not.
The Gospel message of Christianity was and is, precisely, divisive. People either embrace it, or they do not.
The basic morality of the Judeo-Chrisitan Ethos was and is, precisely, divisive. People either live within it, or they do not.
The Constitution of the United States of America was and is, precisely, divisive. Citizens either love it, uphold it and intend to defend it against all enemies, foreign and domestic, or they do not.
The legislated civil law of America was and is, precisely, divisive. Citizens and visitors either obey it, or they do not.
Religion is, of its nature, divisive. Moral codes, traditions and social norms are, of their nature, divisive. Politics are, almost definitively, divisive. If everyone agreed on everything there would be no such thing as politics and no need for any political activity of any kind.
All people are not the same, nor are all ideals, religions or philosophies the same. There are major differences between America and other nations, between the American people and other people, between the American ideal and other ideals.
There is no reconciliation possible between
redistributionism and the American constitution.
There is no reconciliation possible between
open borders and national sovereignty and existence.
There is no reconciliation possible between
the notion of a dependant citizenry and the very idea of liberty.
There is no reconciliation possible between
world governance and national independence.
There is no reconciliation possible between
the rule of law and rule by a dictator or any elite.
There is no reconciliation possible between
constitutional America and Marxism, in any form.
There is no reconciliation possible between
constitutional America and Islam.
There is no reconciliation possible between
representative government and un-representative government.
There is no reconciliation possible between
Godliness and un-Godliness.
There is no reconciliation possible between
any form of religion and Islam.
There is no reconciliation possible between
any form of government and Islam.
There is no reconciliation possible between
any form of civil law and Islam.
Either the American Constitution is a legal document that says very specific legal things, or, it is not worth the paper it is written on. We are either a nation of laws, or we are just another nation of men, like so many others, and all that has gone before in our national founding and in our national history was for nothing.
What kind of an American citizen are you? Divisive, or all inclusive?
Take a stand.
=====
Sarcastic Acronym Hover-Link Footnotes: For the convenience of those readers using devices that lack a mouse, these footnotes are provided for all webpages, in case any webpage contains any hover-links. (If you don't have a mouse, you can't "hover" it over a link without clicking just to see the simple acronym interpretation. Click any footnote link to see the acronym and a detailed explanation; "Hover" the mouse over it just to see the simple interpretation.)
SLIMC1
Secularist Liberal Intellectual Media Complex
GESGOEAEOT2
Gradually, Ever So Gradually, Over Eons And Eons Of Time
PEWAG3
Punctuated Equilibrium's Wild-Assed Guess
TTRSTF4
Them There Real Scientifical-Type Fellers
TTRSPTF5
Them There Real Smart Perfesser-Type Fellers
TTRSJTF6
Them There Real Smart Journalistical-Type Fellers
SNRTACBT7
Surely No Right Thinking Adult Could Believe Today
STNSEACPB8
Surely Today No Serious Educated Adult Could Possibly Believe
WDN9
We Don't Know
BMDFP10
Baboons, Mongrel Dogs, Filthy Pigs and ...
HBAACOTE11
Human Beings Are A Cancer On The Earth
ACLU12
Anti-Christian Litigation Union
FLORMPORIF13
Flagrant Liar, Or, Mindless Parrot, Or, Innocent Fool
MEJTML14
Marxist Ends-Justify-The-Means Liar
IEJTML15
Islamic Ends-Ends-Justify-The-Means Liar
MPAV16
Marxist Principles And Values
WBESSWG17
Wise, Benign, Elite, Super-Scientific World Governance
TRMITM18
The Reason Man's In This Mess
IYI19
Intellectual Yet Idiotic
TTRSCBTF20
Them There Real Smart Catholic Bishop Type Fellers
IACMPVND21
Illegal-Alien-Criminal Marxocrat-Party-Voting Nation-Destroyers
PEJTML22
Palestinian Ends-Justify-The-Means Liar
PSYOP23
"Psychological Operation" Mind Trick
CDC24
Covid Developmentally Challenged
LGBTQ+25
Every Letter Represents A Serious Psychotic sexual Identity Disorder
[All Web Pages listed in Site Map by date-of-publication;
oldest at the top, newest at the bottom of the list.]

Culture=Religion+Politics;  Who Are We?  Vic Biorseth
The Brilliantly Conceived Organization of the USA;  Vic Biorseth
Return to the BLOG page
Return to the HOME PAGE
Subscribe to our Free E-Zine News Letter
Respond to This Article Below The Last Comment

Comment
Respond to this WebPage immediately below the last comment.
Or,
---
Saturday, March 09, 2013
Converted Page to SBI! Release 3.0 BB 2.0. 
---
Date:   Thu Nov 20 2014
From:  Vic Biorseth
Comment:  
Changes pursuant to changing the website URL and name from 
Thinking Catholic Strategic Center to
Catholic American Thinker.
Pulled the trigger on the 301 MOVE IT option June 1, 2014. Working my way through all the webpages.  . 
Regards,
Vic
---
Language and Tone Statement

Please note the language and tone of this monitored Website. This is not the place to just stack up vulgar one-liners and crude rejoinders. While you may support, oppose or introduce any position or argument, submissions must meet our high Roman Catholic and Constitutional American standards of Truth, logical rigor and civil discourse. We will not participate in merely trading insults, nor will we tolerate participants merely trading insults. Participants should not be thin-skinned or over sensitive to criticism, but should be prepared to defend their arguments when challenged. If you don't really have a coherent argument or counter-argument of your own, sit down and don't embarrass yourself. Nonsensical, obscene, blindly &doggedly anti-Catholic, anti-American, immoral or merely insulting submissions will not be published here. If you have something serious to contribute to the conversation, be prepared to back it up, keep it clean, keep it civil, and it will be published. We humbly apologize to all religious conservative thinkers for the need to even say these things, but the Hard Left is what it always was, the New Leftist Liberals are what they are, and the Internet is what it is.
"Clickbait" advertising links are not acceptable for posting here. 
If you fear intolerant Leftist repercussions, do not use your real name and do not include email or any identifying information.  Elitist Culturally Marxist Pure Authoritarians cannot and will not tolerate your freedom of speech or any opposition to their rigid authoritarian, anti-equality, anti-life, anti-liberty, anti-property, hedonistic, anti-Constitution, pro-Marxist, pro-Islam, anti-Catholic, anti-Christian, anti-Semitic, anti-male, sexist, pro-homosexual, anti-heterosexual, anti-white, racist, anti-Western, anti-American, Globalist, anti-Nation, blatantly immoral, totally intolerant and bigoted point of view. 
Copyrighted Material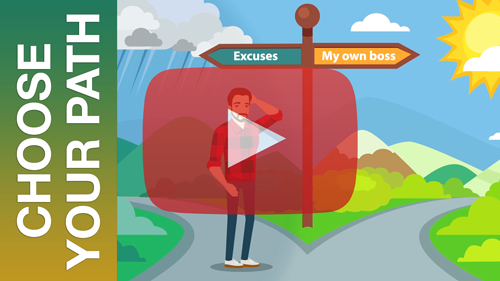 Solopreneur Opportunity Links, for a
Solo Build It WebSite