Site best viewed on a computer screen - not optimized for cell phones
Latest 50 articles published or updated here: BLOG (Web-Log) Page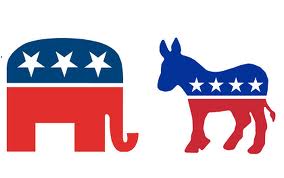 The Current American Political Landscape.

Our Two Parties and their Positions.

(And how the Media presents them to us)
Vic Biorseth, April 5, 2006
http://www.CatholicAmericanThinker.com
I must say, all things being equal, I am very grateful to the Lord for the fact that we have two and only two very powerful political Parties in America, and I pray that that will continue to be the case into the future. When you look at Democracies that have lots and lots of political Parties, you are generally looking at countries that have entirely new governments multiple times a year, with no one in clear control, with people elected to high office even though more people voted against them than voted for them.
Which, of course, has happened here, when votes were split between more than two Parties. Billary and Hillary Clinton, both times they ran, were elected even though more people voted against them than voted for them. And, that is the sort of thing that may be considered to be the norm when there are more than two main parties, or when some independent Party candidate grabs some of what clearly would have been a majority vote. Even at that, we are far better off than some of those Western European and Eurabian countries that have 15 or 20 or more viable, legitimate, actual political Parties, representing, as they do, everything from pornographers to prostitutes to farmers to Aquarians. Such countries can just about never expect to have a sitting Legislature or Executive who truly represents a majority of the voters.
So, the Catholic American Thinker recommends choosing carefully between the Republican and Democratic Parties, and avoiding any extraneous Parties or independent candidates. It is better all around, for everyone in America, if more of us get involved in motivating our two major Parties in the direction of truly representing us, rather than either dropping out of the process, or giving strength to opponents of both Parties. That is the slow but sure path to loosing representative government. If you don't like the positions of a Party, or if you don't like the positions of either Party, do something about it, and let them know about it.
Ben Franklin once humorously warned against "drawing your saber, mounting your horse, and charging furiously, in all directions at once." While that remains a good warning, I submit that it would be better to be a mount-up-and-charger than to be a sit-back-and-bitcher. Yet, either of those would still be preferable to being a take-my-ball-and-play-somewhere-else-r.
Perfection is not of this world, but the next. Neither Party is ever going to be perfect. With that in mind, let's take a Thinking Catholic look at American's current political climate, and the position of the two Parties.
First and foremost, we need to look at the guiding ethos of a Party. Which means looking at their foundational morality and seeing how closely it coincides with the Catholic ethos. (One out of four of us is a Catholic.) Or, failing that, how closely it coincides with the Protestant ethos. (Three out of four of us is a Protestant.) Or, failing that, how closely it coincides with the general ethos of Western Civilization, which is based on Judeo-Christian moral norms. (98 out of every hundred of us follow the Western Culture ethos.) Some of this is addressed in the Thinking Catholic Webpage, and in the Catholic Culture Webpage.
First of all, just what kind of people are we?
Some 86% of us are self-professed Christians, and 98% believe in God. However well or poorly we might practice our diverse faiths, and however vague or precise our personal ethos' might be, we are, without question, a nation of believers. We overwhelmingly follow the Western Culture notions of right and wrong, decency, manners and civility. At the absolute core of all of that are the Ten Commandments, whether anybody likes it or not. Even if vast numbers of us can't even recite them, we all know what they are, and they form the foundation within us that tells us what's right and what's wrong. This sense of what's right and what's wrong is written on our hearts. Even unfortunates possessing un-trained or even malformed consciences, living lives in counter-culture and in crime, know, when they do it, that the thing they do is wrong, or it is right. Nobody has to tell them that. Unless they are seriously deranged.
The Contentious Issues that make men Political Partisans.
If there were no such thing as a contentious issue, there would be no such thing as politics. Contentious issues make politics, among peoples that are free and self-governing. In this country, we are supposed to be partisan, to be about something, to make political decisions and take a political stand. In my opinion one of the worst possible things a grown man could say would be "politics bore me." Any non-participatory, let George do it, lukewarm wimp who says that sort of thing in America might be happier living in some dictatorship, where the people have no voice, and there are no issues of contention, and nobody argues with the leader.
For quite a few decades now, the
SLIMC1
has been creating, monopolizing, and presenting the
public image
of what America is about, both
internally
within the USA, and
externally
to the international community. I submit that that image is false. More recently, thanks to the internet, and to internet Bloggers, the false
facade
of the Mainstream Media (MSM) is being stripped away, and, for the first time, the all-powerful media is actually threatened by something. The MSM is under serious attack from Bloggers and talk-radio, seems to be undergoing a sort of implosion, and it remains to be seen what exactly will replace it. Hopefully, a
real
free press. The political power - the power to politically sway the masses - of the overwhelmingly Leftist-Liberal
SLIMC1
, up until now, cannot be overstated. I pray that this is the beginning of the end of their era.
So, let's look at some contentious issues.
The Modernist tends to over-emphasize the natural sciences over theology, to put it mildly. In point of fact, the best and brightest among the Modernists are self-proclaimed atheists and pure Materialists or Naturalists. The recognized scientific community, including very nearly some whole sciences, is largely made up of Modernists, and forms a cult that is decidedly intolerant of theists among their ranks, even to the point of academic and legal exclusion.
I submit that the Democratic Party is predominantly supportive of the Modernist viewpoint, and that the Republican Party is only weakly supportive of it.
Today's Marxists would rather not use the term; indeed, many of today's younger Marxists aren't even smart enough to know what they are. The preferred term is Socialist, or even Social-Democrat, but the political position is exactly the same. Similarly, terms like worker's paradise and utopia and international Communism are out of vogue, and the new "in" terms are nations without borders and the global village and equality. Note that the equality they refer to is not just equality before the law; what they mean is absolute equality, in everything. Marxists in the MSM will not use the term Marxist, or Socialist, or even Leftist. They even avoid, if possible, the term Liberal. They prefer to describe themselves with the term Moderate, because that is how they actually view and portray themselves. But they give up the game when they refer to their opposition in terms that specifically exclude terms like moderate or centrist. Their opposition is always described by them as Right Wing or even Hard Right Wing, or as the Religious Right, or even as Fascist, which they mistakenly see as somehow opposite to Marxist. Any opposition to their notion of equality-in-everything is described as bigoted and/or racist and/or intolerant.
I submit that the Democratic Party is decidedly Marxist, and the Republican Party is generally anti-Marxist, even if only weakly so.
Darwinism is rigidly enforced atheist dogma, pure and simple. The Darwinist fervently believes, by faith alone, in the complete absence of empirical evidences, that entirely new species naturally "evolve" from other species. A new species is defined as one that can still reproduce itself, but can not interbreed and reproduce with its parent species, because it is a new species. Throughout all of human history, no such occurrence, living or fossil, has ever been observed by anyone, including Darwin. Yet today, Darwinian theory is legally forced into the public education system, to the legal exclusion and censorship of any opposing theories, and even debates within the field of Darwinists are specifically censored in the public school classroom.
I submit that the Democratic Party is solidly Darwinist, and that the Republican Party is also Darwinist.
Once upon a time, in any dictionary, the first definition of fornication described any act involving sexual gratification outside of the sacred bounds of normative marriage. But that was the pre-Freud era. Christianity teaches the existence of a continuum between the two mutually exclusive notions of sin and grace. Freudianism teaches the existence of inhibitions, which are always bad, and the preeminence of sex as the driving force behind all human action. These ideas are antagonistic. To the Freudian, the very notion of sin represents and unwanted and unhealthy inhibition, and the job of the Freudian is to remove unhealthy inhibitions.
I submit that both the Democratic and Republican Parties at least support, where they do not overwhelmingly endorse, the silly notions of Freudianism.
Secularism, which falsely portrays itself as neutral on religious matters, is a very pro-active atheist mission of religious cleansing of the American public square. If a school system in a culture like, say, India, were to try and separate pupils from their ancient heritage of Hinduism, most modern Liberals would probably call that an intolerant intrusion into a culture. Yet that is precisely what they are doing to an overwhelming Christian heritage and culture right here in America. And any who oppose it are labeled as Right Wing Religious nuts.
I submit that the Democratic Party is just about exclusively Secularist, and the Republican Party is generally or weakly anti-Secularist.
The pro-abortion forces will not call themselves pro-abortion for obvious reasons. They can't stand the title. So they use mealy-mouthed weasel-words and Orwellian Newspeak to hide the disgraceful reality of their position. The fact is, and their speech and writing in the pro-abortion arena proves, that they love it, they champion it, they sponsor it, and they will defend it to the death.
I submit that the Democratic Party loves, sponsors and champions abortion; it's a plank in their platform, it's what they are about, and it is one of their defining issues. The Republican Party is almost solidly against aborting people.
America's Masturbation Industry:
Just as secularism seeks to religiously censor all public free religious expression, if it's Christian, it seeks to defend pornography as free speech and artistic expression. Which is the same grounds on which it defends open public expressions of sacrilege, so long as it is against Christianity. But if there is any money source more lucrative to Leftist political Party coffers than show-biz, billionaires, abortionists, the Red Chinese military and so forth, it would be the kingpins of the America's largely unregulated masturbation industry.
I submit that the Democratic Party defends pornography as free speech, and the Republican Party, with few exceptions, is pretty wimpy in opposing it.
If the political-correctness police catch you even saying the word, you will be labeled an intolerant bigot and a - get this - homophobe. Right. Supporters and champions of sodomy use more mealy-mouthed weasel-words and Orwellian Newspeak than the pro-abortion forces, again, because the truth hurts. What the pro-sodomy Homo-Nazism movement seeks is normalization and forced public acceptance of open, highly visible, in-your-face, public fagotry in the American public square. In show-biz, in sit-coms, in public schools, in corporations, even in churches. And it is succeeding. Even the "new," and I would say, Modernist, Disney corporation, with it's Gay Day, proves that it firmly believes that the sight of men holding hands and kissing in public is a good, positive example for other people's children to see.
I submit that the Democratic Party is definitely pro-sodomy, with high ranking Party representatives openly courting the homosexual vote, leading Gay parades, supporting Gay marriage, and on, and on, and on. The Republican Party is, mostly, anti-sodomy.
Racism is defined as belief in the superiority or inferiority of a given race; an antagonism based on that belief; or, simply, antagonism against another race with no other basis than race. Recognizing, again, that perfection is not of this world but the next, I would still say that real racism is just about dead in America, and has been for a long time. Marxian social planners, redistributionists and collectivisors, traveling by other names, seek to keep American blacks, particularly inner city blacks, alienated from the larger America and opposed to assimilation, for their own political reasons. Keeping inner city blacks convinced that they cannot make it on their own without the massive help of Liberal political sugar-daddies appears to be the goal. Successful blacks who assimilate are ostracized as oriole cookies and not seen as exemplary models and examples for others to follow. Programs aimed at equality of stuff between races invariably lower society rather than raising the target race, and cause antagonisms that are easily, although erroneously, labeled as racist. I submit that it is not possible to enforce a policy that grants advantage to a race without simultaneously enforcing disadvantage on another race. Purposely forcing a disadvantage on a race can be called, definitively, racist.
The Democratic Party was the Party of Slavery; it morphed into the Party of segregation forever; now it is the Party of abortion. It masquerades as the Party that champions the black cause, but all its preferential-racial policies do, in the end, is keep blacks down, by keeping them dependent. The Republican Party is, predominantly, the Party of equal rights under the law. Period. You don't need any sugar daddy. Lots and lots of black American self-made millionaires prove the point. The problem is not the American ideal, but rather, interference with it.
I suppose I could keep this up all night, but I need to end this somewhere, so, this is it. How do these issues stack up and get judged by your ethos?
As I said at the beginning, I'm glad there are these two, big, powerful Parties in America, and I pray to be always voting for someone in one of them. At the moment, as I think you can see, the Democratic Party is the one I love to hate. There's just so much there to
oppose.
How do you even define an ethos that would support such things? Well, how about the ethos of
BMDFP10
and Democrats?
Things, and Parties, can always change, and I pray that they will, for the better.
God Bless.

=====
Sarcastic Acronym Hover-Link Footnotes: For the convenience of those readers using devices that lack a mouse, these footnotes are provided for all webpages, in case any webpage contains any hover-links. (If you don't have a mouse, you can't "hover" it over a link without clicking just to see the simple acronym interpretation. Click any footnote link to see the acronym and a detailed explanation; "hover" the mouse over it just to see the simple interpretation.)
SLIMC1
Secularist Liberal Intellectual Media Complex
GESGOEAEOT2
Gradually, Ever So Gradually, Over Eons And Eons Of Time
PEWAG3
Punctuated Equilibrium's Wild-Assed Guess
TTRSTF4
Them There Real Scientifical-Type Fellers
TTRSPTF5
Them There Real Smart Perfesser-Type Fellers
TTRSJTF6
Them There Real Smart Journalistical-Type Fellers
SNRTACBT7
Surely No Right Thinking Adult Could Believe Today
STNSEACPB8
Surely Today No Serious Educated Adult Could Possibly Believe
WDN9
We Don't Know
BMDFP10
Baboons, Mongrel Dogs, Filthy Pigs and ...
HBAACOTE11
Human Beings Are A Cancer On The Earth
ACLU12
Anti-Christian Litigation Union
FLORMPORIF13
Flagrant Liar, Or, Mindless Parrot, Or, Innocent Fool
MEJTML14
Marxist Ends-Justify-The-Means Liar
IEJTML15
Islamic Ends-Ends-Justify-The-Means Liar
MPAV16
Marxist Principles And Values
WBESSWG17
Wise, Benign, Elite, Super-Scientific World Governance
TRMITM18
The Reason Man's In This Mess
IYI19
Intellectual Yet Idiotic
TTRSCBTF20
Them There Real Smart Catholic Bishop Type Fellers
IACMPVND21
Illegal-Alien-Criminal Marxocrat-Party-Voting Nation-Destroyers
PEJTML22
Palestinian Ends-Justify-The-Means Liar
PSYOP23
"Psychological Operation" Mind Trick
CDC24
Covid Developmentally Challenged
LGBTQ+25
Every Letter Represents A Serious Psychotic sexual Identity Disorder
[All Web Pages listed in Site Map by date-of-publication;
oldest at the top, newest at the bottom of the list.]

Culture=Religion+Politics;  Who Are We?  Vic Biorseth
The Brilliantly Conceived Organization of the USA;  Vic Biorseth
Return to the BLOG page
Return to the HOME PAGE
Subscribe to our Free E-Zine News Letter
Respond to This Article Below The Last Comment

Comment
Respond to this WebPage immediately below the last comment.
Or,
---
Wednesday, January 02, 2013
Converted Page to SBI! Release 3.0 BB 2.0. 
Note: At the birth of these two great Parties, the defining issue was the slavery issue. The Republican Party was the Party of the abolition movement, and the "purifying" of the concept of the American Republic.  The Democrat Party was the Party of the slavery movement, and the transformation of America from a Republic into a pure Democracy.  These sentiments made the Democrat Party ripe for the plucking of the Marxist movement, and pluck they did.  The Marxist movement in America has mostly morphed into the "Progressive" movement, which seeks to eventually achieve control and dominate, through peaceful "Democratic" processes, that which Marx originally sought to achieve through bloody revolution: Dictatorship. 
At the nation's birth, which is to say, the ratification of the Constitution, there were no Parties. The men who ran for office ran on Principle, as men of honor. Today, the simple man of Principle running for high office is rare indeed. They run on Platforms, with the support of various lobbies and highly partisan groups with special interests. Principle, for the most part, has been left in the dust.

---
Date:   Thu Nov 06 2014
From:  Vic Biorseth
Comment:  
Changes pursuant to changing the website URL and name from 
Thinking Catholic Strategic Center to
Catholic American Thinker.
Pulled the trigger on the 301 MOVE IT option June 1, 2014. Working my way through all the webpages.  . 
Regards,
Vic
---
Language and Tone Statement

Please note the language and tone of this monitored Website. This is not the place to just stack up vulgar one-liners and crude rejoinders.  While you may support, oppose or introduce any position or argument, submissions must meet our high Roman Catholic and Constitutional American standards of Truth, logical rigor and civil discourse.  We will not participate in merely trading insults, nor will we tolerate participants merely trading insults.  Participants should not be thin-skinned or over sensitive to criticism, but should be prepared to defend their arguments when challenged.  If you don't really have a coherent argument or counter-argument of your own, sit down and don't embarrass yourself. Nonsensical, obscene, blindly & doggedly anti-Catholic, anti-American, immoral or merely insulting submissions will not be published here.  If you have something serious to contribute to the conversation, be prepared to back it up, keep it clean, keep it civil, and it will be published.  We humbly apologize to all religious conservative thinkers for the need to even say these things, but the Hard Left is what it always was, the New Leftist Liberals are what they are, and the Internet is what it is. 
"Clickbait" advertising links are not acceptable for posting here. 
If you fear intolerant Leftist repercussions, do not use your real name and do not include email or any identifying information.  Elitist Culturally Marxist Pure Authoritarians cannot and will not tolerate your freedom of speech or any opposition to their rigid authoritarian, anti-equality, anti-life, anti-liberty, anti-property, hedonistic, anti-Constitution, pro-Marxist, pro-Islam, anti-Catholic, anti-Christian, anti-Semitic, anti-male, sexist, pro-homosexual, anti-heterosexual, anti-white, racist, anti-Western, anti-American, Globalist, anti-Nation, blatantly immoral, totally intolerant and bigoted point of view. 
Copyrighted Material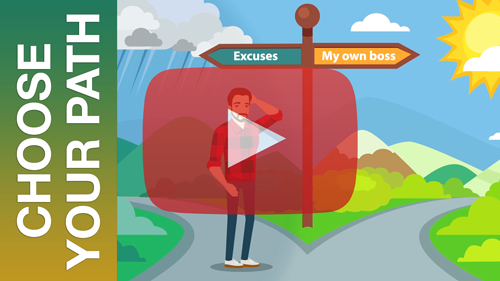 Solopreneur Opportunity Links, for a
Solo Build It WebSite