Site best viewed on a computer screen - not optimized for cell phones
Latest 50 articles published or updated here: BLOG (Web-Log) Page

Agent Provocateurs: The manipulated manipulators inflaming Ferguson MO.
The agent provocateurs are defrauded fools defrauding and fooling a dumbed-down populace.
Vic Biorseth, OWM; Thursday, November 27, 2014
https://www.catholicamericanthinker.com/
It's Thanksgiving Day, and not a day to reflect on negative things.  We are thankful for so much, but especially for the fact that everyone in America, and everyone in the world, are not being totally fooled.  There is and will always be a remnant left to advance the banner. 
We just put the turkey in the oven; we're trying Trisha Yearwood's one-hour, no baste, no bother turkey recipe this year.  In one hour, we turn the oven off, but then we don't open the oven for another 4 to 6 hours.  That's important.  We were going to do it last night, and after one hour, turn the oven off and just go to bed. 
But we went to Thanksgiving Mass after we both got home from a full day's work, and when we got home from Mass, we were both too tired to mess with it; so we started it this morning.  More about that later.  I just want to get some things off my chest while the turkey cooks. 
Agent Provocateurs were the tools of revolution described by Niccolo Machiavelli, the reputed inventor of "The Ends Justify The Means".  If he didn't invent it, he certainly popularized it as a world wide immoral political stratagem.  In Machiavelli's strategy for the forcible overthrow of a sovereign, his Agent Provocateurs were necessary sacrificial pawns, needed to make the "New Prince" into a public hero, and the new sovereign, at the same time.  It is a strategy of deceit and deception. 

The New Prince would quietly and secretly gather his own armed forces, while hiring and/or defrauding the secret spies and agent provocateurs into fomenting discord, inflaming the people against the sovereign or the established order, causing and accentuating strikes, chaos, disorder and even terror.  Groups of secret agent provocateurs would purposely foment this discord in multiple localities at once, so that the existing sovereign would be confused, split his forces and not fully comprehend what was going on. 
When the whole of the sovereignty was rioting, the New Prince would ride in to the rescue, killing all the rioters, and killing even his own spies and agent provocateurs, to the cheers of the terrified populace, and he would dethrone the ruler and make himself the new ruler. 
It works.  Sometimes.  Karl Marx (or his ideology of conquest) proved it. 
Marxism was inspired by the writings of Machiavelli. 

I submit that no Communist government, in all of history, ever came to be through purely popular revolution, or through honest and open purely popular election.  Marxism, in any form, advances only through deceit, deception, lies and treachery. 
America is different than any other sovereignty Marxism ever set its gun-sights on.  As the first Constitutionally established classless society, and as the world's absolute center for the growth and spread of the Free Market = Capitalism, it could never be taken by popular revolution, and even deceptive takeover disguised as revolution would be extremely difficult.  Because the American people love their unique American liberty, which, in and of itself, creates the Free Market = Capitalism, which is the fraudulent straw-villain so demonized by Marxism. 
Marxism absolutely depends upon the "Evil Capitalism" myth it created.  Conversely, the Free Market absolutely depends upon a moral, liberated citizenry, the right to private property and the rights of citizens to do honest commercial transaction with each other.  Thus, Constitutional America and Marxism are polar opposites. 
Even if we disregard the Machiavellian schemes behind it all, the fraudulent utopian ideals of Marxism, designed to draw in and recruit "Useful Idiot" supporters of Marxism are not even possible. Collective property, community property, redistribution of property, all, oppose the right to private property, and human liberty.  The promise of worldly perfection - Communist Utopia - is quite impossible. 
But, as P. T. Barnum said, there's a sucker born every minute. 

Market Power and Political Power are the two forms of power sought by the two sides of the Marxist coin.  Market Power is sought by the Corporatists or Fascists who seek to use government power, or any other power, to "corner" a market and create a profitable monopoly, displacing market competition.  Political Power is sought by politicians who seek to grow government power at the expense of the liberty and the property of the people.  Sometimes, they may be the same people, or, they may become indistinguishable.  When they make use of Marxist deceptions, it doesn't make any difference.  They are all Marxists.  They all do injury to the Free Market = Capitalism. 
A huge Lobbying industry exists in Washington DC for almost the sole purpose of advancing Fascism. 
The important thing to note here is that Marxism - the fundamental ideology of Marxism - is strongly established in the current government of the United States of America.  Marxism owns and drives the Marxocrat Party, has made serious inroads in the Republicrat Party, and Obamunism is, through and through, Marxist.  Fascistic lobbying is in operation on both Marxocrat and Republicrat sides of Congress. 
So Marxism is advancing here, unlike anywhere else, from the top down. 
But nobody sees it.  And that's the real problem. 
We talked about Treacherous Cronyism recently.  We talked about Crony Capitalists, Crony Republicrats, Crony Journalists, and even Crony Catholics and Crony Moslems.  But an important other form of Cronyism was left out; the most important Cronyism of all for the recruitment of secret Agent Provocateurs:  Crony Criminals. 
The earliest examples of Marxist organizing for future revolution involved organized labor.  The American docks, as one instance, are dominated by the International Longshoreman's Union, which itself was created, owned, operated and run by equal parts Mafia gangsters and Communist organizers, just as one example. 
If you look through the histories of various Marxist "revolutions" you will see that the perpetrators - the Lenins, Stalins, Hitlers, Mussolinis, etc. - always surrounded themselves and colluded with the most ruthless and barbaric misfits, perverts and criminals in society.  The criminals were necessary, for what was required was brute force, terror and assassination, sometimes on a grand scale.  Ordinary men would not do such things.  Marxism draws to itself the dregs of society, because Marxism demands that terrible things be done.  The ends justify the means. 

Our Agent Provocateurs, here in America, come in many varieties and flavors.  All of them are fools.  None of them see themselves as someone else's tools, or possibly as mere sacrificial pawns on a larger strategic chess board, but that is all they are.  Few if any even see the underlying Marxism, or if they do, they think they are an "important" part of the plot, with value.  But they have no real value; only temporary usefulness. 
Crony Capitalism's agent provocateurs gin up public animosity against competing businesses and industries, and encourage government regulation, penalties and restrictions against them in the "public interest". 
Environmental Whacko agent provocateurs gin up public animosity and government regulation against all business and all industry, and even all people. 
Crony Marxocrat Party agent provocateurs gin up public animosity against their straw villain Capitalism = the Free Market, and encourages public favor for Collectivism and government Redistributionism of Private Property.  For the "good of the people", of course. 
Crony Republicrat Party agent provocateurs gin up public animosity against enemies of their real profession - the profession of running, feeding and growing a political Party - which enemies they see as the Tea Party, and anyone else strictly interested in protecting and re-instituting the American Constitution.  Republicrats are more interested in protecting their profession than in anything to do with the American Constitution. 
Crony Journalist agent provocateurs are, truth be known, not only in bed with the Marxocrat Party, but actually are a fully functioning, organic part of it, critical to its ultimate success. The whole of the SLIMC1 is Marxist to the core, and is owned and operated by the Marxocrat Party for the greater good of the whole Marxist agenda. Those few Journalists who don't know that are fools; mere Useful Idiots of Marxism, like all the others.
Crony Catholic agent provocateurs, like their Protestant counterparts, gin up animosity against belief in the existence of Objective Truth, in favor of a more relaxed moral code and a more "accepting of the other" non-judgmental religion.  They are not smart enough (or they are evil enough) to recognize that denial of Absolute Truth is, in and of itself, denial of the existence of God.  The Marxist goal here is the elimination of morality among the people.  Marxism - every bit of which is false - cannot survive in any social environment ruled by a fixed and unchanging high moral code.  Morality must be destroyed; therefore, religion must be weakened, and controlled, if not destroyed. 

That ain't all, not by a long shot.  There are all the Divide and Conquer movements invented or commandeered by Marxism.  All seek to modify "The System" to satisfy themselves, whether the Constitution likes it or not.  The Eco-Nazis, the Femi-Nazis, the Homo-Nazis and the Racial-Nazis all have their own agent provocateurs, and often there is "cross-pollination" across the different kinds.  
All of them claim to be victimized by a cruel American "system" that was set up just to victimize them.  Right.  And they all mean to change it.  Having been educated into stupidity by a Marxist-dominated education system, and propagandized all their lives by Marxist-dominated entertainment and news industries, they simply don't know any better.  (Or they do know better, and they are evil.) 
No one seems to see that the one, single, common thread running through all of it is the destructive, revolutionary, fraudulent, dangerous, stupid and yet brilliant ideology of Marxism.  Stupid because it is just plain dumb; brilliant because it just won't die. 

All of that stupidity, or much of it, converged on Ferguson MO for the preplanned, orchestrated, choreographed, rehearsed, practically catered race riot.  The only thing missing was the carnival food vendors and rides.  All the cameras were in place.  Leading and feeding the riot frenzy was the Al Sharpton - Jesse Jackson Traveling Race Show, with their bull horns, racist animus against whites, hatred of rule of law, and their Marxocrat Party voter registration forms. 
Encouraging the cop-hating, rule-of-law hating, justice hating, pure racist mob incitement were the Obamunist Administration, the Obamunist Justice Department, the Marxocrat Party, the Marxocrat News Media and all the local Marxocrat politicians.  It was a lie fest.  They competed to tell the biggest whoppers, and nobody called them on any of it.  Well, Talk Radio; nobody who could or would do anything about any of it. 
"The kid was shot in the back" was a flagrant lie.  Nobody was charged with giving false information to the police.
"The poor little kid was surrendering" was a flagrant lie.  Again, nobody was charged with anything. 
"This has been building for a long time" was a flagrant lie.  No such incident had happened in those environs for fifty years or more. 
"It ain't just this incident; its the system that causes incidents like this" was a flagrant lie.  There is not a damned thing wrong with the rule of law except that some people do not wish to be constrained by it. 
"It's a systemic problem all across the whole culture" was a flagrant lie.  There is no such systemic problem all across America. 
The fact that it was an exceedingly rare incident is what drew the Race Brothers, the Obamunists, the Marxocrats and the Marxist News Media to Ferguson in the first place.  So, the "enraged" rioters began gathering from as far away as California and New York, in the build up for the Carnival.  I mean Race Riot. 
They were said to be "exercising their Constitutional right to demonstrate"; but, demonstrate for what, exactly?  Mob justice as opposed to the rule of law?  Anti-cop demonstration?  Anti-fair trial demonstration?  Vengeance for a dead potential cop killer demonstration?  Make a hero out of a criminal demonstration?  Let's pretend the kid wasn't a criminal and the cop was a racist murderer demonstration? 
What, exactly? 
"Nobody wants to stop a peaceful demonstration" was heard over and over again.  But nobody asked why any peaceful demonstration was even called for. 
(Pssst:   It was a preplanned, orchestrated race riot.  Shhh!) 
Non-Marxocrat dominated areas have annual festivals of some sort.  Around here, one town has a Strawberry Festival; another has a Sauerkraut Festival; another town has a Blue Grass Festival, etc.  In Marxocrat-dominated areas, which just about all inner-city areas and just about all black population centers are, the counterpart to these local festivals is the periodic race riot.  It's a chance to go looting and get other people's stuff, and maybe kick some white ass if you get the chance.  
Seriously.  Every time, you will hear the same old quotations, such as "this has been building for a long time" meaning that there hasn't been a major wild, rampaging stealing spree since the last time.  It's how they hope to "get ahead" once in awhile.  They keep voting Marxocrat, and they keep on not getting any better off, and they just don't see it.  The Race Brothers and the Marxocrats do everything in their power to keep them from simply assimilating into the larger culture, to keep them filled with rage against "the man" and "the system" without letting them know that they are "the Man" and they are "the system". 
When better than 90% of American blacks vote Marxocrat, every single time, no matter what, well - I'm sorry, but there's just no kind way to say this.  Those people are just dumber than a box of rocks.  Voting Marxocrats in, election after election, and getting worse off, election after election, and generation after generation, is not exactly what you would call a mark of brilliance for any population.  It is stark, open, sheer stupidity on public parade. 
Nobody seems to even be noticing that there were major attempts - mainly unsuccessful, as usual - at getting other race riots going over the same Ferguson issue in other far flung localities.  Kind of Occupy Wall Street-ish.  Still, nobody sees any underlying Marxist agenda here, or anywhere.  Every time, every race "festival", there are always anxious anarchists and Communists hoping that Maybe This Is The Big One; but it never is. 
One day, maybe it will be. 

There are always real anarchists, Communists and revolutionaries of various spot and stripe peppered among the rioters.  Real black businesses are looted, burned and destroyed, and black housing, and black investment.  Real bullets are fired; the danger is very real.  Black and other people who had nothing whatsoever to do with the "triggering incident" will suffer for it.  It's just party time in the city.  Marxocrat officials in charge of law and order won't even stop it, or won't stop it sufficiently.  The locals who participate are, as I say, just plain stupid. 
Anyone who ever said any thing like "Burn that M__F__er down!" is beyond stupid, and all the way into imbecilic.  What we're looking at here is irredeemable, near suicidal stupidity.  People like this will look at contemporary great American citizens like Herman Cain, Thomas Sowell, Clarence Thomas, Walter Williams and others, and call them "Uncle Tom" and "Acting White" and "Oreo Cooky" and condemn them rather than see them as real life examples of what could be.  What actually is.  No one gave any of them anything.  There they stand, in plain sight.  I admire them; black America, stupidly, hates them. 

I give up.  I have no time for such stupidity. 

Well, the turkey is done, and it turned out great.  You can Google "Trisha Yearwood no baste no bother turkey" for the full recipe.  What we did was rub butter all over the outside and all over the inside, and then salt and pepper all over the outside.  We preheated the oven to 500 degrees.  While it preheated, we boiled enough water to cover the bottom of the broiler pan about an inch and a half.  When the water was boiling good, we poured it into the pan under the turkey, covered it all tight with aluminum foil, and put it into the 500 degree oven. 
After one hour, we turned the oven off, but did not open the oven door.  That is very important.  Six hours later, we took it out, and it was done.  There was a very rich broth in the bottom of the pan, and the whole turkey was moist.  Usually, I don't like white meat (except on sandwiches with lots of mayonnaise) because it's too dry. 
Note that this only works for a small turkey; 12 pounds or less.  It might not work if you have a big turkey.  Another point is that it is kind of pale; if you really have to have that golden brown skin that you used to see on your mother's or your grandmother's turkey, then you might have to put it back under the broiler for 10 or 15 minutes to crisp it up.  It's done, it's just not that deep rich brown. 
It was delicious.  Perfect size for us, because it's just me, Marcie, Mark and the neighbor lady next door.  And we have lots of leftovers. 
Once again we gave thanks to God Almighty for our blessings, for the remnants of our Country that are good, for the remnants of our Church that are good, for the opportunity to correct things as best we can, beginning with ourselves.  And for a perfect, delicious meal, and for all them leftovers. 

Wishing you and yours a blessed Thanksgiving, and praying that you may please God and live forever.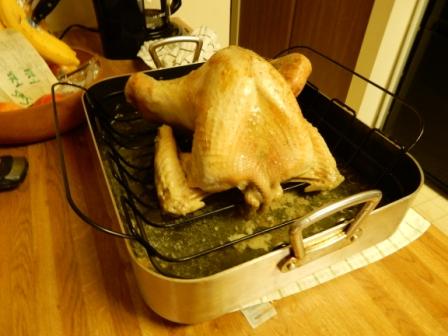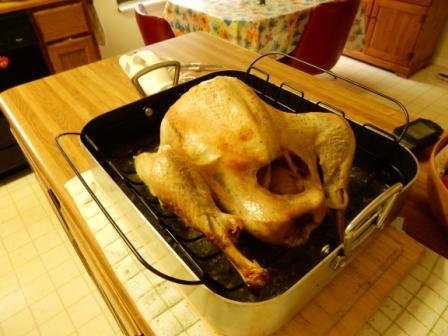 =====
Sarcastic Acronym Hover-Link Footnotes: For the convenience of those readers using devices that lack a mouse, these footnotes are provided for all webpages, in case any webpage contains any hover-links. (If you don't have a mouse, you can't "hover" it over a link without clicking just to see the simple acronym interpretation. Click any footnote link to see the acronym and a detailed explanation; "hover" the mouse over it just to see the simple interpretation.)
SLIMC1
Secularist Liberal Intellectual Media Complex
GESGOEAEOT2
Gradually, Ever So Gradually, Over Eons And Eons Of Time
PEWAG3
Punctuated Equilibrium's Wild-Assed Guess
TTRSTF4
Them There Real Scientifical-Type Fellers
TTRSPTF5
Them There Real Smart Perfesser-Type Fellers
TTRSJTF6
Them There Real Smart Journalistical-Type Fellers
SNRTACBT7
Surely No Right Thinking Adult Could Believe Today
STNSEACPB8
Surely Today No Serious Educated Adult Could Possibly Believe
WDN9
We Don't Know
BMDFP10
Baboons, Mongrel Dogs, Filthy Pigs and ...
HBAACOTE11
Human Beings Are A Cancer On The Earth
ACLU12
Anti-Christian Litigation Union
FLORMPORIF13
Flagrant Liar, Or, Mindless Parrot, Or, Innocent Fool
MEJTML14
Marxist Ends-Justify-The-Means Liar
IEJTML15
Islamic Ends-Ends-Justify-The-Means Liar
MPAV16
Marxist Principles And Values
WBESSWG17
Wise, Benign, Elite, Super-Scientific World Governance
TRMITM18
The Reason Man's In This Mess
IYI19
Intellectual Yet Idiotic
TTRSCBTF20
Them There Real Smart Catholic Bishop Type Fellers
IACMPVND21
Illegal-Alien-Criminal Marxocrat-Party-Voting Nation-Destroyers
PEJTML22
Palestinian Ends-Justify-The-Means Liar
PSYOP23
"Psychological Operation" Mind Trick
CDC24
Covid Developmentally Challenged
LGBTQ+25
Every Letter Represents A Serious Psychotic sexual Identity Disorder
[All Web Pages listed in Site Map by date-of-publication;
oldest at the top, newest at the bottom of the list.]

Culture=Religion+Politics;  Who Are We?  Vic Biorseth
The Brilliantly Conceived Organization of the USA;  Vic Biorseth
Return to the BLOG page
Return to the HOME PAGE
Subscribe to our Free E-Zine News Letter
Respond to This Article Below The Last Comment

Comment
Respond to this WebPage immediately below the last comment.
Or,
---
Language and Tone Statement

Please note the language and tone of this monitored Website. This is not the place to just stack up vulgar one-liners and crude rejoinders.  While you may support, oppose or introduce any position or argument, submissions must meet our high Roman Catholic and Constitutional American standards of Truth, logical rigor and civil discourse.  We will not participate in merely trading insults, nor will we tolerate participants merely trading insults.  Participants should not be thin-skinned or over sensitive to criticism, but should be prepared to defend their arguments when challenged.  If you don't really have a coherent argument or counter-argument of your own, sit down and don't embarrass yourself. Nonsensical, obscene, blindly & doggedly anti-Catholic, anti-American, immoral or merely insulting submissions will not be published here.  If you have something serious to contribute to the conversation, be prepared to back it up, keep it clean, keep it civil, and it will be published.  We humbly apologize to all religious conservative thinkers for the need to even say these things, but the Hard Left is what it always was, the New Leftist Liberals are what they are, and the Internet is what it is. 
"Clickbait" advertising links are not acceptable for posting here. 
If you fear intolerant Leftist repercussions, do not use your real name and do not include email or any identifying information.  Elitist Culturally Marxist Pure Authoritarians cannot and will not tolerate your freedom of speech or any opposition to their rigid authoritarian, anti-equality, anti-life, anti-liberty, anti-property, hedonistic, anti-Constitution, pro-Marxist, pro-Islam, anti-Catholic, anti-Christian, anti-Semitic, anti-male, sexist, pro-homosexual, anti-heterosexual, anti-white, racist, anti-Western, anti-American, Globalist, anti-Nation, blatantly immoral, totally intolerant and bigoted point of view. 
Copyrighted Material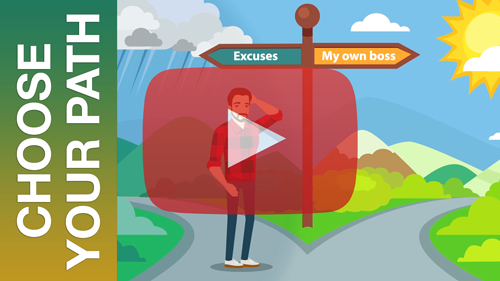 Solopreneur Opportunity Links, for a
Solo Build It WebSite