Site best viewed on a computer screen - not optimized for cell phones
Latest 50 articles published or updated here: BLOG (Web-Log) Page

Our American National Identity Crisis:  Who Are We?
First, You Must Address Your Personal Identity Crisis:  Who Are You? 

Are there still enough citizens of like mind and soul to make a recognizable and viable nation?

Vic Biorseth, Sunday, July 31, 2016
https://www.catholicamericanthinker.com/
What is the Catholic American Thinker all about? 
That's like asking what is America all about?  The problem is, there are a blue million opinions and answers to what America is about, but they cannot possibly all be correct.  The vast majority are wrong, and what's left are each only partially right, for there is no one answer.  The nature of the American Republic is the sum total of - all of us. 

And that's the problem.  We have an induced and growing Identity Crisis. 

Go back to basics, you say; go back to America's roots, and start over.  I wish we could, but all of us will not.  Many of us - who knows how many - don't particularly like America's foundational roots, and believe we should move away from that whole original ideology. 

The questions the Catholic American Thinker wrestles with  are,
what is the most perfect political arrangement for the nation, from the citizen's point of view? 
are there enough citizens of like mind to make and maintain that political arrangement? 
The fact that these questions are "big" questions, too big for any one man to resolve should not dissuade each of us from trying to answer them.  That's what we were blessed with brains for.  We are not built to just go along to get along with the political wind blown by the few.  If there is one small vestige of our American founding roots that still remains at least somewhat alive among most of us, it may be this: 

Americans are not built to have nothing to say about their own government and their own law. 

It should only take a moment's reflection to agree that nations with boundaries are absolutely necessary to human civilization.  The people, whether high or low, who seek to eliminate borders in favor of some vision of Globalism, or some utopian Worker's Paradise, or some grand New World Order, or some Open Society, or some dreamed-of World Government, are either men with evil intent toward all humankind, or, they are dupes and fools. 

Without sovereignty, without national borders, the world descends into chaos.  Period.  Nations and borders are absolutely essential to human civilization.  Without borders, there can only be global chaos. 

And global chaos is the plan of the deceitful and evil men who promote the end of sovereignty and the end of national borders.  The reason they seek chaos is that chaos presents opportunity, for feigned revolution or armed coup, or suspended (and taken over) governments, ostensibly to resolve a crisis, but in truth, designed to take over nations and/or the world, by trickery and by force. 
Displace order with disorder; displace disorder with dictatorship. 
That's the evil Machiavellian plan. 

The "borderless is better" evil trick is what was originally behind the establishment of the European Union in the first place, and it is what is behind today's purposefully and illegally held open American borders. 

There is no Utopia; there is no man-made perfect system; that's a lie. 

Cultural heterogeneity is not better than homogeneity; cultural diversity is not better than commonality; a multiculture is not better than a culture.  All that, too, is a culturally destructive lie.  Obviously. 

How did so many of us ever allow ourselves to be tricked into thinking that wild cultural diversity could provide any kind of an improvement to any identifiable human culture?  Cultural diversity destroys culture. 

Blurring or losing identity is not and cannot be any kind of improvement. 

We Americans are not (or we should not be) just some hodgepodge collection of people, but we form a distinct, identifiable American Culture, unique in all the world.  Not by race or ethnic ancestry, or by shape, size, abilities or disabilites.  But rather, by our faith, our faith-driven morality, our common language, our families and upbringing, our marriages, our vocations, avocations and life experiences.  All of that formed us, within the borders of a nation with a Constitution that guaranteed all of us certain rights and demanded of all of us certain responsibilities.   

American Culture is a faith-based culture. 

The faith is what Benjamin Franklin called "General Christianity".  It is described, along with the founding principles of America, among the Christian-American-Politics pages.  There you will find the God-given Natural Law rights to equality, life, liberty and property. 
And the unique principle that we have no sovereign ruler, other than the Constitution, the Supreme Law of the Land, to which all elected and appointed high government officials and all members of the military must swear allegiance before assuming their responsibilities. 
This is unique in all the world.  From the President on down, all of us stand equal before the law.  The government is temporary; the Constitution is permanent.  Thus, we, alone in all the world, can say that we are a nation of laws, not of mere men. 

But - to keep it going,
Temporary government must remain temporary, and,

government must obey the legal requirements, follow the operating instructions and stay within the constraints of the Constitution; and,

The people must remain a virtuous and faith-filled "good" people, in their overwhelming majority. 

The reason the people must remain faithful and virtuous is threefold:
They must elect "Representative" government, representative of faith and virtue;

Representative law must be law that people will voluntarily obey, therefore it must be virtuous and just law;
Faithful and virtuous people will only willingly obey just law that reinforces faith and virtue, thus requiring minimal law enforcement for the exceptions to living the law abiding life.  Outlaws, in other words. 

When representative law truly represents the will of a good and virtuous people, there is natural order and peace in society. 
We are all formed by the society in which we are raised. 

But, there are several flies in the American cultural ointment. 

The advent of unconstitutional Political Parties, in the years leading into the Civil War, brought with them political agendas extraneous to and even opposing the Constitution.  But the Parties gained sufficient political power to actually take over the government from the Constitution.  Today, American politicians owe first allegiance to their Party, not the Constitution, and the Parties violate the Constitution regularly and with impunity. 

Marxist ideology, which is absolutely antithetical to the unique American ideology, has invaded all areas of politics, political Parties, education, entertainment, publishing and news reporting.  And through all of these, Marxist thought has "merged" itself into American culture itself.   Nobody thinks of it as anti-American, but that is what it is. 

Marxist ideologues have modified American culture for the worse.  That is what is behind the secularization - the religious cleansing - of the government, the public square and even the market place. 
This has lead to publicly accepted moral relativism and blatant immoral law, sometimes even unconstitutionally adjudicated - not legislated - into national "Constitutional" law, imposed from above upon all states and local jurisdictions, in violation of the 10th Amendment. 

That is how all sorts of glaringly evil acts are now protected, all across the nation, as "Constitutional Rights".  This is a direct attack on the faith and virtue of the people.  And most or many of them don't see it. 

"Blasphemy against the Holy Spirit, then, is the sin committed by the person who claims to have a 'right' to persist in evil - in any sin at all - and who thus rejects redemption."  --Pope Saint John Paul the Great

These "rights" - on subjects not even found in Article One Section Eight, and therefore completely out of scope for any Federal Government attention at all - come close to forcing people into sin.  In some cases, as in the completely unconstitutional Obamacare law, it does just that. 
Some of these unconstitutional "laws" abrogated existing legitimately legislated representative law in states and local jurisdictions.  Moral law, abrogated by immoral law. 

This creeping Marxist ideology is behind almost every cultural flaw found in our American culture since, at least, the 1848 publishing of the Communist Manifesto.  It is certainly behind the government and news media softness for Communism.  Marxism favoring News Media is why the Vietnam War was lost, not on the battlefields of Vietnam, but on the streets of America and in the halls of Congress.  No American unit ever lost a major battle in Vietnam, but the war was lost anyway, due to a Communist fifth column right here in America, especially in the Mainstream News, which had already become the main propaganda wing of the Communist enemy. 

And this continuously secularizing ideology is what's really behind all the educationally induced antagonistic factions in America today, born of education in Feminine Studies, Black Studies, LGBTQ Studies, Climate Change Studies, Environmental Doom Studies, Gender Id Studies, White Privilege Studies, White Colonialism Studies, American Imperialism Studies, and on, and on, and on. 
Colleges, and even High Schools, and even Elementary Schools, turn people into angry factions, always hostile to the majority.  They even make white people guilty about being white, and racist against their own race.  They even make heterosexuals guilty about being heterosexual. 
The goal, as always, is chaos. 
And the goal is being achieved.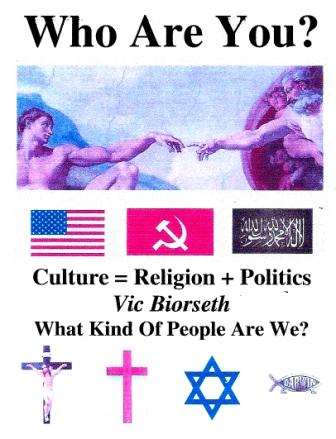 We are not going anywhere as an identifiable culture until we know who we are. 
You are not going anywhere as a citizen contributing to the larger culture, until you know who you are. 

The three "Big Ideas" that all world politics coalesce around are:
Americanism.
Marxism.
Islam.

These three political arrangements are so at odds as to be diametrically opposed to each other.  They cannot coexist for long in the same culture.  They are three totally different legal and political and government organizations and plans for organizing society. 
The American idea is national, but infectious.  Many try to emulate it or come close.  Most who are attracted wind up immigrating. 

The Marxist idea is global, based on Marx's Communist Manifesto, which calls for the drive to world wide International Communism. 
The Islam idea is also global, based on Mohammed's call to dominate the world, and eliminate all other forms of law, government and religion. 

All other nations fall short, in one way or another, of the unique American model of having the law and the law alone as being the sovereign to which men pledge allegiance. 
Marxist lands, especially those that call themselves Communist, have walls and borders, but they are designed not to keep people out, but to keep citizens in.  Because everyone wants to leave. 
The more or less Socialist lands, that may call themselves Social Democracies, or Democratic Socialist Republics, are close to the same situation, with a dominated citizenry and an economy doomed to failure.  Whatever lofty title they give themselves, they are, in general, dictatorships. 
The typical European Socialist countries are odd mixtures of representative Parliamentary Democracies with "Labor" favoring Marxist Socialism.  All are cruising toward economic disaster even quicker than we are, simply because they are farther down the Socialist slope than we are. 
But we are catching up. 
And then, of course, there are the Islamic lands; and that's a bird of a totally different feather, although there exists an on-again off-again affinity between Marxism and Islam.  Both oppose everything else on earth; that may be what attracts them to each other now and  then through history. 

The problem is not so much today one of military threat, as it was during the Cold War, although the world is not free of military threat.  The real threat today, here and everywhere, is failure to recognize Marxism and Islam as internal threats to national survival.  And along with that failure of recognition is an obstinate refusal to excise and remove the parasite ideologies of Marxism and Islam from within the host nations.  Including America.  We are allowing hostile alien ideological forces to transform us, for their benefit, not ours.  To our national destruction. 

The American Constitution and the Declaration of Independence are absolutely incompatible with Marxism and with Islam.  Both Marxism and Islam are destructive of American culture. 

Openly so.  They publicly declare it to be so.  They are clear about it. 

Way back in the 19th century, after the American Idea had proved itself by making America the roaring success that it was among all the nations of the world, Alexis Tocqueville came to America to study the reason behind that roaring success. 
His conclusion was that, number one, America was great because America was "good", in that her people were good, Christian, God-fearing people, and their government and laws were representative of them.  Good people drove good representative government. 
And, number two, America was a Republic, with protections preventing the decline into mere Democracy, because Democracy ultimately  fails, when: 
The Government learns that it can bribe the people with the people's own tax dollars, and in essence buy votes;
The People learn that they can get more and more "benefits" and "entitlements" from the government by voting for the candidates that promise them the most. 

" From that moment on, the majority always votes for the candidates promising the most benefits from the public treasury with the result that a democracy always collapses over loose fiscal policy, always followed by a dictatorship. The average age of the world's greatest civilizations has been 200 years." --Alexis de Tocqueville

The authors of the Declaration and the authors of the Constitution knew that, and that's why they built in safeguards against sliding out of being a Representative Republic and into a Democracy.  Democracies always fail.  Always.  Marx knew that too, and he said so, and he sought to turn that natural propensity of Democracy to fail to his own benefit. 

Democracy is the road to socialism. --Karl Marx.
Democracy is indispensable to socialism. --Vladimir Lenin.
The political form of a society wherein the proletariat is victorious in overthrowing the bourgeoisie will be a democratic republic. --Vladimir Lenin
I really thought that, in order for Marxism to ever to succeed here, it would take the final few pushes to transform America from a Constitutional Republic into just another Democracy.  We were on the road to Democracy, started by the Woodrow Wilson administration, with the passage of two Constitutional Amendments aimed, eventually, at the end of the Republic, the transformation into a Democracy, and the setup for the descent into Marxism. 

It was under Wilson, of course, that the first huge parts of the Marxist program, such as the progressive income tax, were incorporated into the American system. --Robert Welch.
The two abominable Amendments of Wilson were,
Amendment XVI, allowing the government to collect Income Taxes and establish a graduated tax system, per item 2 of the Pillars of Communism. 

Amendment XVII, transforming the Senate from a body of appointed representatives of State Governments to a mere politcally elected body, exactly the same as the House of Representatives, moving the American Republic that much closer to becoming a pure Democracy, in preparation for economic failure and the fall into Socialism. 

Almost nobody saw the danger to the Republic in that. 

Today, a Senator is absolutely no different than a member of the House of Representatives.  Like the Representative, he owes his allegiance to the voters in the state, not to the State government, for the dully elected government of the State no longer appoints him to and maintains him in his post.  He is no longer a Statesman; he has been reduced to being just another mere politician, competing for votes as best he can.  He is now far more interested in political campaigns than in the duties of actual statesmanship. 

And today, Tocqueville's warning has come to be an American reality. 
Politicians bribe the people with the people's own money;
The people vote for the politician who promises the most. 

The result is an ever increasing fraction of the voting population that is dependent upon the government for subsistence, and an ever decreasing fraction of the voting population that remains independent, and wishing to take care of themselves and their families, on their own, without government interference.  An increase in collectivization at the expense of the family; an increase in communal property at the expense of private property; an increase in dependency, even government forced dependency, at the expense of liberty. 
The killing of the American dream. 

To continue that Wilsonian drive to Democracy, we have such contemporary American political luminaries as Madam Hillary, who proposes the elimination of the Electoral College, so that "The People", and the people alone, will elect Presidents.  Pure Democracy, in other words.  And no one is even alarmed about it. 

As we said earlier, the original fear was that the more or less formal, although really unconstitutional or anti-constitutional movement into Democracy would be necessary before the economic failure would destroy us as a viable self-sustaining nation.  But that was wrong.  Marxism found a faster way. 
The unconstitutional Political Parties have simply bypassed the Constitution entirely, and we are now accelerating to warp speed in our own still largely unrecognized purposeful national destruction. 
Through the Parties, we are bypassing Democracy entirely. 

Through the use of the unconstitutional Parties, the Marxists have learned that they can take us right straight into Marxism, bypassing the Democracy step entirely, and do it more quickly.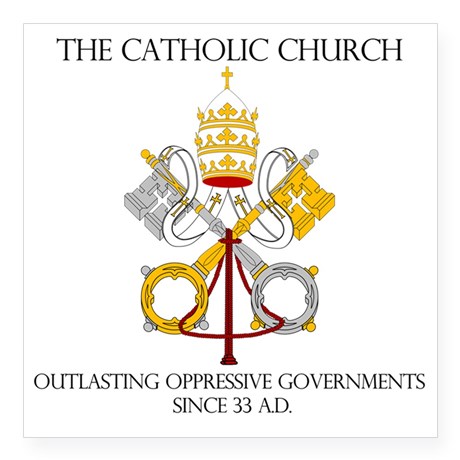 That's world politics. 

The three "Big Ideas" that all world religions coalesce around are:
Judaism and Christianity.
Marxism.
Islam.

That may sound weird, because so many religions are left out, and Marxism is not a religion so much as an anti-religion.  But we're talking about world shaking and/or world dominating religions or religious belief systems, having their effect on shaping not only local culture, but world culture, and standing in open competition against each other, as mortal enemies. 

Judaism and Christianity are lumped together here not so much because of theology as because of morality.  Jews and Christians share an identical moral code.  Therefore, even while being miles apart on theology, they can "get along" and cooperate in the public square, in the open marketplace and in politics.  They share a common sense of right and wrong, and they can deal with each other on that basis, even as they maintain separate and apart from each other in their Synagogues and Churches. 

And it's the same situation between the Catholic and Orthodox Christians, and all the Protestant Christian Denominations.  We may all disagree on theology, but we all agree on morality, just as with the Jews.  We can therefore join hands in politics, to fight the good fight against evil, for we can all recognize evil when we see it. 

Even as we keep separate in our various Churches, Temples and Synagogues, even as we jealously argue in defense of our various theologies, we can do so without killing each other.  We can discuss anything at all, without fear of either side dominating the other, for that would be wrong, and we all instinctively know that.  We have the same moral code.  The one thing our divergent theologies and doctrines agree on is that we all may enter the Kingdom only of our own free will.  We all know that. 
No one can be dragged, kicking and screaming against his will, into eternal salvation.
Nor can anyone be ordered into eternal salvation by any worldly authority, such as a theocratic government, or Islam; nor can anyone be ordered to drop their religion by any worldly authority, such as Marxism, or any "secular" government. 
We all know these things. 

However much we may differ in theology, we can lock arms on morality. 

That means we can lock arms in politics, confirming the formula, 
Culture = Religion + Politics

It goes without saying that Marxism opposes religion, especially Judaism and Christianity, because everything Marxism does opposes Juaeo-Christian morality, at least.  Not only that, but Marxism flat out opposes religion. 

The first requisite for the happiness of the people is the abolition of religion. --Karl Marx.
Religion is the impotence of the human mind to deal with occurrences it cannot understand. --Karl Marx.
Religion is the opium of the masses. --Karl Marx.
Religion is the sigh of the oppressed creature, the heart of a heartless world, and the soul of soulless conditions. It is the opium of the people. --Karl Marx.
The Pope? How many divisions has he got? --Joseph Stalin.
In fact, if Christ himself stood in my way, I, like Nietzsche, would not hesitate to squish him like a worm. --Che Guevara.
One strength of the communist system of the East is that it has some of the character of a religion and inspires the emotions of a religion. --Albert Einstein.
The revolutionary is the man who has emancipated himself from ties of blood and soil, from his mother and his father, from special loyalties to state, class, race, party, or religion. --Eric Fromm and Abraham Maslow.
That makes Marxism a mortal enemy of America on both political and religious grounds.  Marxism is not merely amoral; it is immoral, as all the Judaeo-Christian world recognizes morality. 

Nothing can have value without being an object of utility. --Karl Marx.
That includes human beings.  Marxism opposes everything we believe. 

Communism is for us not a state of affairs which is to be established, an ideal to which reality [will] have to adjust itself. We call communism the real movement which abolishes the present state of things. The conditions of this movement result from the premises now in existence. --Karl Marx.
The bourgeoisie will have to be put to sleep. We shall begin by Launching the most spectacular peace movement on record. There will be electrifying overtures and unheard-of concessions. The capitalist countries, stupid and decadent, will rejoice to cooperate in their own destruction. They will leap at another chance to be friends. --Prof.Manulsky, Soviet School of Political Warfare.
[W]e must strengthen the United Nations as a first step toward a world government," …. "… We must change the basic structure of our global community … to a new system governed by a democratic UN federation. … Today the notion of unlimited national sovereignty means international anarchy. We must replace the anarchic law of force with a civilized force of law. --Walter Cronkite.
It seems to many of us that if we are to avoid the eventual catastrophic world conflict we must strengthen the United Nations as a first step toward a world government patterned after our own government with a legislature, executive and judiciary, and police to enforce its international laws and keep the peace ... To do that, of course, we Americans will have to yield up some of our sovereignty. That would be a bitter pill. It would take a lot of courage, a lot of faith in the new order. --Walter Cronkite.
And, it goes without saying that Islam opposes all other religions, especially Judaism and Christianity, because Islam exists to destroy all other religions and dominate the world.  That is Islam's purpose for being.  That is the call of Mohammed. 

"Fight those who do not believe in Allah, nor in the latter day, nor do they prohibit what Allah and His Apostle have prohibited, nor follow the religion of truth, out of those who have been given the Book, until they pay the tax in acknowledgment of superiority and they are in a state of subjection." --Koran 9.29
Having been "given the book" in accordance with this verse, means that we have been shown the Koran, or somehow told about Islam, and we have not converted to Islam.  That satisfies the requirement of "warning" before Jihad, or Holy War, may commence against us.  If you wonder what it is that "radicallizes" individuals or groups to commit heinous acts of terrorism and murder within our borders, it comes right straight out of the Koran, and there is nothing radical about it. 

The President and his Party and his Media will tell you otherwise.  They will tell you that Islam is a religion of peace.  But he is a liar, and so are they.  Islam is not peace.  Islam is war.  Like Marxism, which morphed from a direct violent revolutionary strategy of conquest to an internal parasitic strategy of "Cultural Marxism", Islam moved from direct conquest to "Civilization Jihad", working from inside non-Islamic lands.  

Like Marxism, Islam is a straight theocracy.  It is a radical combination of religion and state.  Marxism is a radical combination of Secularism - i.e., the forcible removal of religion - and dictatorship, under the guise of "The People's Dictatorship" or some such title.  Both are working to destroy us, from the inside. 

Before we Jews and Christians can properly unite politically to do something about this, we have got to do a lot of winnowing, to separate ourselves from our enemies, who are right in here among us, even within our Churches and Synagogues.  Our common morality will only dominate in our culture when our religion(s) become more pure and true to the original teaching.  It's time to end the soft, mushy accommodating doctrine, so common today, with the actual Scripture and originating Tradition that formed our religions. 
No matter how strongly anyone feels he has a "right" to persist in evil, and no matter how much the government may back that unconstitutional "right" to persist in evil, he has no right to remain in the company of his Church or Synagogue, and Priests, Ministers and Rabbis who do not separate them out betray their office, their calling and their ministry in so doing. 

Inside and outside of our religions, we had better begin purging American society of Marxist and Islamic ideology.  These ideologies do not deserve a vote in our elections, because they mean to destroy the very Constitution that grants them their rights.  They do not even deserve the right to remain here. 

If we do not restore our border integrity, and if we do not deport those who's guiding ideology or religion insist on our destruction, they will destroy us.  They are already working to do that. 

This is just Common Sense.  Very simple; nothing to it. 

Once more into the breach, dear friends, once more; or close the wall up with our English dead. --Shakespeare; from Henry V

If ever there was a time for a call to arms, this is it.  But not for physical, worldly battle.  I's time for serious spiritual battle, and that begins at home, and it begins inside each man, one man at a time.  If we don't get ourselves right, we will never get the country right. 
That means we have to get right with God. 

It means purging ourselves of sin and divorcing ourselves from the world, from material, from temptation, from pride, and then coming to the Lord in utter humility.  Making ourselves empty, and ready to fully accept and cooperate with the Grace that is given, to do what is right and just in the eyes of the Lord. 

Today's Mass readings tell us what to do. 

Vanity of vanities, says Qoheleth,
vanity of vanities! All things are vanity!

Here is one who has labored with wisdom and knowledge and skill,
and yet to another who has not labored over it,
he must leave property.
This also is vanity and a great misfortune.
For what profit comes to man from all the toil and anxiety of heart
with which he has labored under the sun?
All his days sorrow and grief are his occupation;
even at night his mind is not at rest.
This also is vanity. --Ecc 1:2; 2:21-23
---
Brothers and sisters:
If you were raised with Christ, seek what is above,
where Christ is seated at the right hand of God.
Think of what is above, not of what is on earth.
For you have died,
and your life is hidden with Christ in God.
When Christ your life appears,
then you too will appear with him in glory.

Put to death, then, the parts of you that are earthly:
immorality, impurity, passion, evil desire,
and the greed that is idolatry.
Stop lying to one another,
since you have taken off the old self with its practices
and have put on the new self,
which is being renewed, for knowledge,
in the image of its creator.
Here there is not Greek and Jew,
circumcision and uncircumcision,
barbarian, Scythian, slave, free;
but Christ is all and in all. --Col 3:1-5, 9-11
---
Someone in the crowd said to Jesus,
"Teacher, tell my brother to share the inheritance with me."
He replied to him,
"Friend, who appointed me as your judge and arbitrator?"
Then he said to the crowd,
"Take care to guard against all greed,
for though one may be rich,
one's life does not consist of possessions."

Then he told them a parable.
"There was a rich man whose land produced a bountiful harvest.
He asked himself, 'What shall I do,
for I do not have space to store my harvest?'
And he said, 'This is what I shall do:
I shall tear down my barns and build larger ones.
There I shall store all my grain and other goods
and I shall say to myself, "Now as for you,
you have so many good things stored up for many years,
rest, eat, drink, be merry!"'
But God said to him,
'You fool, this night your life will be demanded of you;
and the things you have prepared, to whom will they belong?'
Thus will it be for all who store up treasure for themselves
but are not rich in what matters to God." --Lk 12:13-21
So what if all you have worked for is in jeopardy because of global economic chaos.  So what if you're once again on the short end of the stick, and out of work, and your world is crumbling all round you. 
All of this is passing anyway. 
Even if you are among the rich or otherwise well off, it doesn't matter. 

All of this is passing anyway, sooner or later.  Look to your soul. 

Look to what is permanent.  And not just for you. 

It is you job, your duty, to get your family and all the friends you can into everlasting life.  When Father sends you out after Mass to "Spread the Good News", he isn't just flapping his gums and issuing some formalized platitude.  That is your mission.  You are supposed to do it. Not just go home, eat your dinner and turn on the TV or whatever. 

If you have not repented, confessed and converted from any sin or sinful habit, do it.  Get it done.  Then, and only then, speak to others, about the move to grace and away from vice and sin.  For you are not called to merely "get by" and merely "do your duty" on Sunday.  You are called to rise to actial holiness. 

Reprove the sinner, and invite them into your conversion to holiness.  But make it clear that the invitation is to the sinner, not to the sin.  Sin and holiness do not go together.  If your religion is not firm about this, then your religion is in jeopardy.  Show them the way, through your own holiness, but do not allow unconverted sin and unrepentant sinners into your company unchanged. 
Do not expect the whole world to join you.  Shake the dust when necessary.  Even against those you love.  Manhood itself demands decisiveness and firmness of conviction. 

We will never straighten out our politics until we first straighten out our religion. 

To that end, I submit that the Catholic Church, the Papacy and the Apostolic Succession represents the oldest, uninterrupted, continuously existing human institution on earth, by a huge margin.  No nation, no dynasty, no empire even comes close.  There is a reason for that. 
It is Holiness. 
No one else can say it. 

Maybe a lot of contemporary clerics and laymen have a funny way of showing it, but I'm telling you, it's true.  All the original doctrine remains unchanged.  No one else can say that. 
There have been a lot of bad clerics, even Popes, down through the ages, but the Church still stands, unmoved.  She has weathered worse storms than this one. 

With that kind of background, it seems logical that we Catholics ought to be the Airborne Rangers in the moral fight, leading the way.  So why are we not? 
So what's the anchor holding us back?  The world?  Get rid of it. 

The Final Question.

Are we still the land of the free and the home of the brave? 
Do we really appreciate human liberty as we ought? 
Do we deserve it?  Are we still worthy of it? 

Is it worth whatever we have to do to secure it and increase it? 
Are we willing to suffer to achieve it for future generations? 

Only a good and virtuous people can be a self-governing people.  Only good and virtuous self-governing individuals who know who they are can make up a self-governing people. 

Who are we? 

Who are You?

The trail begins with fasting and prayer.  Repentance and real conversion follows.  You must change the whole way you live your life. 
Once you come out of that final Confessional and do your assigned Penance, the real work may then begin. 

Then, and only then, may we begin to break the evil systems. 

Seek the Truth; find the Way; live the Life.  Please God, and live forever. 

=====
Sarcastic Acronym Hover-Link Footnotes: For the convenience of those readers using devices that lack a mouse, these footnotes are provided for all webpages, in case any webpage contains any hover-links. (If you don't have a mouse, you can't "hover" it over a link without clicking just to see the simple acronym interpretation. Click any footnote link to see the acronym and a detailed explanation; "hover" the mouse over it just to see the simple interpretation.)
SLIMC1
Secularist Liberal Intellectual Media Complex
GESGOEAEOT2
Gradually, Ever So Gradually, Over Eons And Eons Of Time
PEWAG3
Punctuated Equilibrium's Wild-Assed Guess
TTRSTF4
Them There Real Scientifical-Type Fellers
TTRSPTF5
Them There Real Smart Perfesser-Type Fellers
TTRSJTF6
Them There Real Smart Journalistical-Type Fellers
SNRTACBT7
Surely No Right Thinking Adult Could Believe Today
STNSEACPB8
Surely Today No Serious Educated Adult Could Possibly Believe
WDN9
We Don't Know
BMDFP10
Baboons, Mongrel Dogs, Filthy Pigs and ...
HBAACOTE11
Human Beings Are A Cancer On The Earth
ACLU12
Anti-Christian Litigation Union
FLORMPORIF13
Flagrant Liar, Or, Mindless Parrot, Or, Innocent Fool
MEJTML14
Marxist Ends-Justify-The-Means Liar
IEJTML15
Islamic Ends-Ends-Justify-The-Means Liar
MPAV16
Marxist Principles And Values
WBESSWG17
Wise, Benign, Elite, Super-Scientific World Governance
TRMITM18
The Reason Man's In This Mess
IYI19
Intellectual Yet Idiotic
TTRSCBTF20
Them There Real Smart Catholic Bishop Type Fellers
IACMPVND21
Illegal-Alien-Criminal Marxocrat-Party-Voting Nation-Destroyers
PEJTML22
Palestinian Ends-Justify-The-Means Liar
PSYOP23
"Psychological Operation" Mind Trick
CDC24
Covid Developmentally Challenged
LGBTQ+25
Every Letter Represents A Serious Psychotic sexual Identity Disorder
[All Web Pages listed in Site Map by date-of-publication;
oldest at the top, newest at the bottom of the list.]

Culture=Religion+Politics;  Who Are We?  Vic Biorseth
The Brilliantly Conceived Organization of the USA;  Vic Biorseth
Return to the BLOG page
Return to the HOME PAGE
Subscribe to our Free E-Zine News Letter
Comment
Respond to this WebPage immediately below the last comment.
Or,
---
Language and Tone Statement

Please note the language and tone of this monitored Website. This is not the place to just stack up vulgar one-liners and crude rejoinders.  While you may support, oppose or introduce any position or argument, submissions must meet our high Roman Catholic and Constitutional American standards of Truth, logical rigor and civil discourse.  We will not participate in merely trading insults, nor will we tolerate participants merely trading insults.  Participants should not be thin-skinned or over sensitive to criticism, but should be prepared to defend their arguments when challenged.  If you don't really have a coherent argument or counter-argument of your own, sit down and don't embarrass yourself. Nonsensical, obscene, blindly & doggedly anti-Catholic, anti-American, immoral or merely insulting submissions will not be published here.  If you have something serious to contribute to the conversation, be prepared to back it up, keep it clean, keep it civil, and it will be published.  We humbly apologize to all religious conservative thinkers for the need to even say these things, but the Hard Left is what it always was, the New Leftist Liberals are what they are, and the Internet is what it is. 
"Clickbait" advertising links are not acceptable for posting here. 
If you fear intolerant Leftist repercussions, do not use your real name and do not include email or any identifying information.  Elitist Culturally Marxist Pure Authoritarians cannot and will not tolerate your freedom of speech or any opposition to their rigid authoritarian, anti-equality, anti-life, anti-liberty, anti-property, hedonistic, anti-Constitution, pro-Marxist, pro-Islam, anti-Catholic, anti-Christian, anti-Semitic, anti-male, sexist, pro-homosexual, anti-heterosexual, anti-white, racist, anti-Western, anti-American, Globalist, anti-Nation, blatantly immoral, totally intolerant and bigoted point of view. 
Copyrighted Material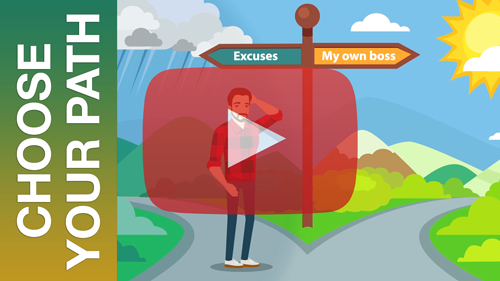 Solopreneur Opportunity Links, for a
Solo Build It WebSite